In a 56-feet long boat, an Indian will go around the globe without a stop
07-September-2012
Vol 3&nbsp|&nbspIssue 36
The number of people who have been to space is approximately 400 and around 5000 have stood on Mt Everest, but till date, only 181 people have circumnavigated the earth of who less than 80 have done it non-stop.
Lieutenant Commander Abhilash Tomy is to set about one such extraordinary trip, one even more exclusive as he is an amateur with only 17 accomplished amateurs having tried anything similar before him.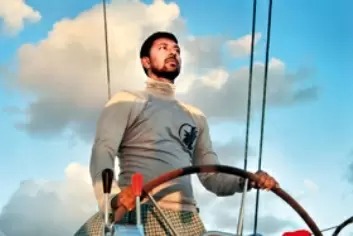 Food for Abhilash's estimated 200 days of journey would be provided by defence labs (Photo: The Sunday Indian)
Abhilash was lucky to have cut his teeth on sailing with the only Indian solo circumnavigator, Commander Dilip Donde.
Commander Donde had circumnavigated the Earth in 2009 in 157 days, but he allowed himself the liberty of anchoring at harbours to repair the boat, stock food and meet people.
Tomy's will be a lonelier battle wherein activities including but not limited to cooking, adjusting sails, repairing the boat would be his responsibility alone. Yes, Tomy is dreaming to pit himself against the behemoth oceans solely on the power of his giant spirit, and a little help from some state-of-the art equipment.
The rules of circumnavigation state that the start and finish should be the same point and the sailor cannot pass through a canal or a strait. All meridians need to be crossed at least once and the Equator crossed twice.
Tomy's journey will be in the Southern seas where he hopes to leverage the trade wind to cruise, but faces the risk of running into the Roaring Forties (strong westerly winds of the Southern Hemisphere).
Dilip Donde knows this to be a gigantic challenge, but believes Tomy's success would make every countryman proud. "It is far more difficult than climbing Mt Everest. Every Everester is a hero in his own right, but usually there's a team or support system. In this case, there's going to be nothing like that."

Tomy shared his braveheart perspective. He explained, "Ideally, one would be anxious on such an expedition, but I'm going to enjoy it. It is entirely voluntary; it's something I got attracted to. I think unless you are cut off from routine, you don't realise what you are missing."
Tomy's boat, Mhadei, named after the river in Goa is 56-feet long and costs Rs 4.25 crores. Based on a Dutch design, it had successfully circumnavigated the world in its maiden voyage with Commander Dilip Donde
It has already charted a whopping 57,000 miles at sea and is now getting ready to surpass its enviable record.
In this journey, Mhadei will pass through some of the most treacherous conditions, battling winds up to 300 km per hour, temperatures down to five degrees below zero and waves as high as nine metres.
Food for the speculated 200 days of journey would be provided by defence labs and sea food would be brought in from New Zealand. The boat also has provisions for carrying 200 bottles of one litre portable water along with an RO, which is fitted in.
But over and above these preparations, Abhilash's mental and physical endurance will be of prime importance.
Commander Donde, recounting his own experience, said, "At night you cannot even see the water under your boat. You are so preoccupied mentally that the slightest noise or change in the angle of boat will wake you, even in auto-pilot. I could never sleep for more than an hour at a stretch."
Tomy agreed, "You can get exhausted to the level of hallucination!" But he looks forward to sailing; he even tested the boat and equipment by cruising non-stop from Brazil to Cape Town and back to Mumbai, covering 9000 kms.
As described in Moby Dick, 'there is one knows not what sweet mystery about (the) sea, whose gently awful stirrings seem to speak of some hidden soul beneath'. Let's hope by the end of this journey, it may have revealed just a bit to Abhilash Tomy… Bon voyage!
By arrangement with The Sunday Indian
Wish to share your story?
Trending Now: