Amidst violence, she wages a different battle to help people

Azera Parveen Rahman
&nbsp | &nbsp Imphal
27-August-2012
Vol 3&nbsp|&nbspIssue 34
A hand-woven scarf, or Leiroom, as they call it in Manipur, a cane jewellery box, a painting on Manipuri dance -- the Lei Hao brand is all about handlooms, handicrafts and paintings. Or so one would imagine. Until you hear the story of the maker of each product - that of a woman gun survivor - and realise that it goes far beyond.
Manipur is possibly one of India's most conflict-ridden zones. Sharing its border with Myanmar and other northeastern states of Nagaland, Assam and Mizoram, the state has seen innumerable cases of armed violence, which has now become a part of everyday life.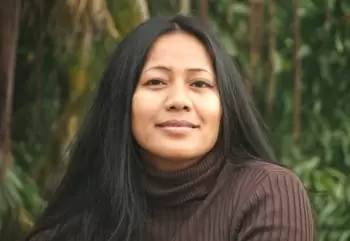 Women trained by Binalakshmi have set up their own shops selling embroidered materials (Photo: IANS)
"As far as my memory goes, I have always known that I live in a conflict zone. My father tells me that even on the day I was born, there was a conflict raging and that he had to run from pillar to post for medicines that my mother so desperately needed," says Binalakshmi Nepram of the Manipur Women Gun Survivors Network (MWGSN), whose brand Lei Hao is.
In her own words, Nepram always wanted to do something about the situation, especially for the hapless survivors of the family which has lost the breadwinner - a husband, a father and a son.
Therefore, as an academic researcher in the Jawaharlal Nehru University (JNU) in New Delhi, she started collecting data and researching the situation.
"However, nothing prepared me for that gloomy Christmas eve on December 24, 2004, when I was in Wabgai, a village near Imphal, talking to a group of women activists. Suddenly we heard gun shots less than a kilometre away and just like that, in a flash of a second, Rebika Akham, one of the women in our group, became a widow," says Nepram.
"Amid all the cries, I remember Rebika's mother's words clearly, 'Now how will I feed you?' It was that moment when I realised there was no point in doing research if there was no intervention. I decided to form a network that supports scores of victims like Rebika, and the Manipur Women Gun Survivors Network (MWGSN) was born," she said.
Soon after, Nepram collected Rs.4,500 with which she bought a sewing machine for Akham. The 24-year-old widow knew sewing and this was an opportunity to start life afresh.
Nepram was however very sure that monetary relief was just a temporary solution, and that soft loans would be more appropriate to make the women gun survivors self- reliant. The network also started opening bank accounts for the women.
As immediate relief, the network helps out the women with food, the children's school fee and other needs. Along with the loan, they are also helped with medical and legal assistance.
Over the years, the network has now touched the lives of over a thousand. It has 150 active members, most of them victims. The network had initially reached out to 25 women.
Huidrom Tanya Devi, 18, is one of the beneficiaries. In 2001, her father, a karate instructor, was gunned down by unidentified assailants for reasons not known to the family till date.
Still shocked at her father's untimely death, Tanya was however able to turn things around with the help of a Rs.3,000 loan that the network gave her mother in 2007. She set up a small business and as months rolled by, she became a successful entrepreneur.
This April, Tanya, like two other women whom the network helped, set up her own shop, selling embroidered material, household goods and incense sticks.
To further help women like Rebika and Tanya, MWGSN decided to bring together the women's hand-crafted products, brand and sell them.
"Lei hao is a beautiful flower that grows in Manipur and symbolises purity. It is offered to gods and goddesses to bring peace and prosperity. Most Manipuri women also wear the flower in their hair during happy occasions," says Nepram.
"Therefore we chose Lei Hao as the brand logo of the MWGSN product line, signifying that the products made by our women gun survivors are mostly traditional handloom, handicraft and paintings. Work is on to give the women a platform with training from experts in the field," she says.
The network is also doing its best to help the women benefit from government schemes, although political will is lacking, says Nepram. - IANS

Trending Now: