Action Aid's 'Courage to Live' campaign identifies those trying to straighten the skewed sex ratio

Alka Pande
&nbsp | &nbsp Lucknow
27-July-2012
Vol 3&nbsp|&nbspIssue 30
It was a cool and quiet afternoon in October 2010. Nirmala was walking back from the Community Health Centre (CHC) in Savansa, a small village in Maharajganj block, Jaunpur district of Uttar Pradesh (UP).
Her mother was working at the health centre as a 'dai', or trained midwife, and she had gone there to meet her. That's when she heard a strange mewling sound.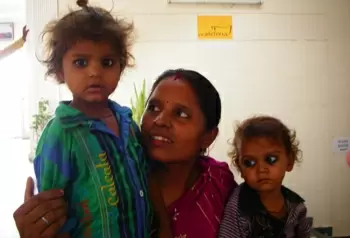 Nirmala, who is mother to five, with her daughters, Anjali and Ankita (Photo: WFS)
Nirmala narrated the story, "It sounded like a baby was crying, but I looked around and there was no one around. Then I discovered that the sound was emanating from the storeroom of the health centre." The room was not in use, its window panes were broken and there was a lot of rubbish strewn around.
Continued Nirmala, "I opened the door and what I saw made me shriek. A newborn baby was lying on the pieces of broken glass wrapped in a torn vest. The baby must have been crying for a long while – its face had a bluish tinge, and its mouth was parched." Even as she recalled this, tears roll down her cheeks. This incident changed her life.
The first thing Nirmala did was to pick the baby up and breastfeed her. She was able to do this because she had only recently stopped feeding her six month old daughter. She then tried to find out whose daughter this was, lying so helplessly amidst the debris of an abandoned room. She went to the nearby hospital to try and locate the real parents, but no one could give her any information.
Eventually, Nirmala brought the baby home and had her treated at a private nursing home in the city since there was no facility for proper childcare at Savansa. That was when she came against a huge challenge.
She already had three sons and a daughter. Her husband and his family could not tolerate the thought of having another girl child in the family. This led to a serious disagreement between Nirmala and her husband, and before long she found herself thrown out of her matrimonial home along with the children.
Nirmala, and her brood of five, found shelter in her parents' house. Endowed with a sense of self respect, she decided to work as a labourer to support the now much extended family. Finances ran low.
She and her brothers together earned less than Rs 6,000 every month – hardly enough to support a family of 15. Yet, fortunately for Nirmala, her parental family had no problems with welcoming its new member. The child, now named Ankita, is today a much loved member of the household.
Nirmala was one of several courageous women of the state to have fought with her own relatives to save the life of a baby girl.
The social action group, ActionAid, which has been working on the issue of India's skewed sex ratio through its campaign, 'Himmat Hai Jine Ki' (Courage to Live), honoured her – along with 14 other women and two men, who have, despite their desperately poor personal circumstances, adopted girl children abandoned by their biological parents.
The honours list included Sunita Yadav from Hisaba village of Baghpat district, who had brought home a five year old girl whom she found begging on a village pathway. Named Puja, she is studying in Class Five in a private school today.
Then there was Rekha, 45, a midwife from Chitrakoot district, who despite being a mother to seven children and a grandmother to three, adopted an infant girl abandoned at the hospital by an unwed mother.
"Since the mother was not married she asked me to kill the child. I couldn't do that, so I took responsibility for that innocent life," said Rekha simply. She named her child Pari, or fairy. Rekha's husband is a rickshaw puller. Fortunately, he did not object to his wife's action.
Another woman honoured by ActionAid was Shivkumari, from Kuthound block of Jalaun district. She comes from a fisher community and has personally influenced 13 women from seeking sex selective abortions under family pressure.
These illiterate, marginalised women and men have shown their ability to understand the basic principle of gender equality in a predominantly patriarchal society like that of northern Indian, where son preference is the norm. - Women's Feature Service

Wish to share your story?
Trending Now: