A district panchayat president in Madhya Pradesh fights relentlessly against land grab

Raju Kumar
&nbsp | &nbsp Bhopal
13-July-2012
Vol 3&nbsp|&nbspIssue 28
Born and brought up in a poor tribal family, Guddi Bai, the Sheopur District Panchayat president, has been continuing her fight against all odds to ensure tribal welfare in Madhya Pradesh.
Guddi Bai is synonymous with struggle for tribal rights. Bai, a tribal from Saharia community, managed to study till standard 5 after utmost hardship. She was only one when her father breathed her last.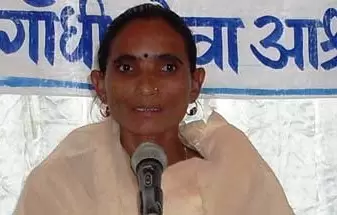 Charismatic leader: Guddi Bai was elected as district panchayat president unopposed (Photo: The Sunday Indian)
However, Bai worked tirelessly for underprivileged locals to save them from exploitation and land grab. With Bai's efforts, it was possible for many tribals to regain possession of their land which had been usurped by the land mafia.
Bai lost her husband when she was only 26. That meant, she had to single handedly bring up her three kids. But the trouble of her husband's death did not deter her from continuing her struggle for the community's rights.
"For me the post of District Panchayat President equals to the repute of my community. I feel the more I work for the tribals the more satisfaction I will get," avers Bai.
Her claims of helping the tribals is indeed evident by her deeds. She staged a sit-in at the collector's office to demand removal of mafias from tribal lands and succeeded in helping the tribals to get their land back.
The helping nature of Bai greatly helped her in catching the attention of locals who decided to field her for the post of District Panchayat member.
Soon after becoming the Panchayat member, the integrity and honesty of Bai greatly boosted her efforts to become president of District Panchayat. Her rivals attempted to derail her bid to become District Panchayat president. But they failed in their attempts and Bai was elected panchayat president unopposed.
"She has spent most of her time working for the tribals. 94 tribals got their land back from mafias after she protested outside collector's office and exposed the mafia-babu nexus," says Ransingh Parmar.
Speaking about Bai's struggle for people, National president of Integration Council, Rajgopal PV, says, "To save natural resources from exploiters, there is a need for people like Guddi Bai."
"Apart from people from Lahroni, the tribals from Panwada also got their land back after the hard work by Guddi Bai," says Anil Gupta from a local NGO.
Despite all odds and hardships, Guddi Bai continues her fight for tribal rights.

By arrangement with The Sunday Indian


Trending Now: