Chohtan panchayat samiti in Rajasthan is changing, thanks to one woman

Renu Rakesh
&nbsp | &nbsp Barmer
06-July-2012
Vol 3&nbsp|&nbspIssue 27
There is very little that distinguishes Chohtan panchayat samiti from the seven other panchayat samitis in Barmer district in southwestern Rajasthan except for one fact: Its 'pradhan' is an educated woman.
Meeting an educated woman in these parts is as rare as sighting water. What further distinguishes Shama Khan, 28, a law graduate, is the fact that among the women sarpanches and samiti members that make up the Chohtan panchayat samiti, she is the only one who is not illiterate.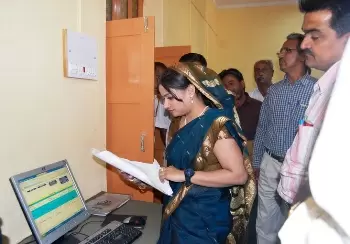 In less than two years, enrolment in the area has gone up from 550 to 6,550, thanks to the efforts of Shama Khan (Photos: Renu Rakesh/ WFS)
In the 251 hamlets, or dhanis, of this panchayat samiti, which shares 114 kilometres of its border with Pakistan and where animal husbandry is the primary source of livelihood, sending girls to school was unheard of.
Rigid feudal practices, including the 'purdah' system, relegated them to the household sphere.
They did the drudge work around the house, looked after children and, of course, spent hours in search of that elusive substance called drinking water.
Across Barmer, drinking water is a major concern and the situation has reached alarming levels. Due to the non-availability of water sources in villages, people – read women – have to sometimes cover 10 to 15 kilometres on foot to fetch potable water.
It is in such an unlikely scenario that the winds of change started blowing through deprived villages lying in the midst of the Thar desert's golden sands. Khan became the catalyst of this change, first as a panchayat samiti member in 2005 and then as a pradhan who was elected unopposed in 2010.
This young wife and mother to a three-year-old daughter had never planned to become a people's representative. She came from an academically oriented family – her father was a manager in the State Bank of Bikaner and Jaipur and he encouraged all his four daughters to study.
"My three elder sisters are government school teachers and my brother is doing his Bachelors' degree in Computer Applications. Even my mother has studied up to Class Eight – a rarity for her times," she reveals.
It was marriage to Gafur Ahmad, a lawyer who has recently been made the first Chairman of the State Advisory Committee, Labour Department, which changed the course of her life in 2002.
Ahmad's family is one the most influential political families of Barmer. Her father-in-law, Abdul Hadi, who passed away in November 2010, was elected MLA from Sanchore constituency (Jalore district) in the first Assembly elections in 1953.
The seven-time MLA was also a member of the All India Congress Committee for 11 years. A man of letters with a flair for languages including Sindhi, Hindi, English and Urdu, Hadi demonstrated through his work how a public representative could change lives for the better.
Khan emphasises the importance her father-in-law placed on education, "We had a primary school in Burhan Ka Tala, my in-laws' village, as early as 1953. My father-in-law got that school upgraded to the secondary level in 1975. He would always tell people that without education we cannot progress. He was disappointed therefore when, in 1977, the school was demoted to the middle level because of the lack of students."
It was Hadi who persuaded Khan to pursue public service. "After I finished my LLB in 2009, I was thinking of preparing for the Rajasthan Judicial Services exam, but he motivated me into changing direction," she recalls.
Even though he had four daughters-in-law, none of the others were educated, so he chose Khan to continue his legacy of development and asked her to contest for the pradhan's post.
Right from the time she was first elected to the panchayat samiti, Khan put a premium on education. Over the years, all those who have met her through her panchayat work have understood that her primary agenda is to see more children, especially girls, in the classroom.
In fact, whenever she goes on the rounds of the villages in her panchayat she randomly walks into homes urging families to send their children to school.
Her efforts have paid off. In less than two years, enrolment in the area has gone up from 550 to 6,550.
"I am the only woman here who is a graduate. Most families in the panchayat are either minorities (Sindhi Muslims) or from Scheduled Caste backgrounds. They have never sent their girls to school. But now things are looking up.

"During school inspections, I find a lot more girls around. They say they want to be like me and I am happy to be a role model for them," says Khan, who is also the only woman graduate from her in-laws' village of Burhan Ka Tala.
Education apart, Khan has also started work on tackling the severe water scarcity that plagues the region. Under the Mahatma Gandhi National Rural Employment Guarantee (MGNREGA) Scheme, she has roped in unemployed villagers to construct underground water tanks in their villages that can store rainwater to last through the year.
In fact, 33 million litres of water has already been conserved this way. Moreover, efforts are on to construct open wells to service particularly parched areas.
Thanks to Khan, someone like Hakamdan Charan is a happy man today. Until two years ago, he was shelling out Rs 75 for one camel-drawn tank of water of approximately 1,000 litres capacity. Due to a shortage of irrigation facilities, this BPL farmer had little financial means to cultivate any crops.
Then, after an open well – called 'beri' in the local language – was constructed on his land, he sowed a rabi crop on 20 bighas of land and it yielded a good harvest of 35 quintals of 'isabgol'. Charan earned Rs 1.4 lakh from this crop. This year, he's planning to produce some fodder for his cattle.
On her part, the enterprising 'pradhan' never fails to raise the concerns of her people in zila parishad meetings. She says, "I don't do anything extraordinary. Aren't we supposed to raise our problems in these meetings and work towards finding solutions?
"I have noticed that many 'pradhans' don't speak out, instead they bring written papers. Most of the time, this approach doesn't work."
Khan's result-oriented strategy has drawn praise from many. It has also presented her with unique opportunities to upgrade her skills.
In September 2011, the government sent her to China as part of a group of 500 young leaders from panchayats from all over the country to understand and study its best practices.
Rajasthan had nominated six people for the 10-day trip. "I was lucky to be part of this group of young leaders. We visited Beijing, Shanxi, Xi-an, Zheng-zhou and Henan and went around educational institutions, saw their heritage and observed how they do business. We had a series of meetings, which were very educative. It was a great learning experience for me," she remarks with a smile.
When she came back there was a greater surprise waiting for her. Her work received national recognition, with the Union Minister of Panchayati Raj and Tribal Affairs V. Kishore Chandra Deo conferring on her the first-ever Panchayat Sashaktikaran Puraskar.
Chohtan panchayat samiti was selected by the Ministry Of Panchayati Raj And Rural Development for being the best performer under the Panchayat Empowerment and Accountability Incentive Scheme (PEAIS).
But Khan is not resting on her laurels. Back among her people, her work on education and water continues. Meanwhile, another commitment is keeping her busy these days.
Her energetic three-year-old daughter is ready to start school in Jodhpur and Khan is working hard to settle her in. For this mom-pradhan, being on her toes round the clock is all in a day's work. - Women's Feature Service


Trending Now: