'Co-education among Muslims would result in greater progress and help

Madhulika Sonkar
&nbsp | &nbsp New Delhi
08-June-2012
Vol 3&nbsp|&nbspIssue 23
It has been a tough battle for Faiza Nisar Ali who helped steer the entry of girls into the erstwhile male bastion of the historic Anglo-Arabic School.
Faiza and the struggle of many other Muslim women created history when the school admitted girls for the first time in its over 300-year-old existence.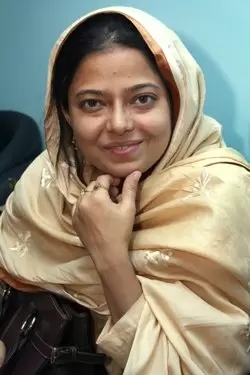 The gritty fighter: Faiza Nisar Ali (Top inset picture: Darakshna Fatima, 17 with her sister Gulfshan, 12) Photos: IANS
Faiza's fight began in March when she was appointed to prepare a feasibility report on why Muslim boys and girls should study under the same roof.
She had to contend with numerous pitfalls along the way, including frantic phone calls from community hardliners trying to dissuade her, being blamed for scripting something "un-Islamic", countless sleepless nights and also the trauma of a miscarriage.
"After months of research, consultations with educationists, psychologists and parents, I concluded in my report that co-education among Muslims would result in greater progress and help them in the later stages of life," says Faiza, who is in her thirties and is the business studies teacher at the same school for over six years.
She recounted the events with moist eyes.
"After the report was done, the staff became very resistant. The teachers went against me and I was held liable for being un-Islamic," she said.
The report spoke on how co-education could boost academic performance of both the sexes, and also highlighted that Muslim parents wanted their girls to go to a co-ed institution.
Despite facing internal resistance from the predominantly male school staff, the managing committee of the school in a meeting on March 26 decided to open its doors to girls.
The decision was considered historic for the school, located at Ajmeri Gate, in the old quarters of Delhi.
However, the landmark decision did not end Faiza's agony. While her family was supportive about the step she had taken, the mental pressure due to the angry reactions brought her to hospital.
Then eight weeks pregnant, Faiza went through a miscarriage. But she was gutsy enough to pursue her dream.
"I had this invisible pressure about how to face colleagues in the school. I had gone through a lot, but I did not want to leave it in the middle," the mother of a five-year old admits, adding that her "mother had even suggested her to distance herself from all the activities".
She got support when more Muslim women joined the cause. A Jawaharlal Nehru University student, Fatima Alvi, filed a petition in the Delhi High Court.
On May 24, the court backed their cause. The school management swung into action and has so far admitted over 30 girls in Classes 6 to 11.
For many Muslim girls studying in nearby girls' government schools, the move is a dream come true as they can switch to the Anglo-Arabic School that has produced the likes of Liaqat Ali Khan, the first prime minister of Pakistan, Sir Syed Ahmad Khan, founder of Aligarh Muslim University, and J.N. Dixit, former national security adviser and foreign secretary.
Burqa-clad petite Darakshna Fatima, 17, beams with joy for having made it to the school.
"I lost my father 6 years back, since then my mother has been the pillar of strength for me," says Darakshna, who aspires to become a chartered accountant.
The Class 11 student added, "Our relatives had reservations, but I am proud that my mother fought for my education."
Darakshna's sister Gulafshan has also secured admission to the school, which was started as Madrasa Ghaziuddin around 1692.
Jamia Millia Islamia Vice Chancellor Najeeb Jung, president of Delhi Education Society, under the aegis of which the school runs, felicitated the first batch of 15 girl students who were admitted to the Anglo-Arabic School.
"This is the girls' first step towards better schooling. The change will come gradually. .. Modern education has started arriving for girls from the community," Jung said.
"We are expecting more girl students in the coming days. There will be a female teacher to attend to the special needs of girls and we plan to recruit more female staff," said Azra Razzak at Jamia Millia Islamia, who is also secretary, Delhi Education Society.
However, Faiza says the fight is not over yet. Though girls have been admitted, the resistance among many staff members remains.
"Let's hope there is an attitudinal shift and changes begin to happen," Faiza said.
She herself had faced resistance when she was selected among three women teachers to join the 80-member strong male staff at Anglo-Arabic School. She remembers facing hostility from her male colleagues.
"Initially it was very suffocating, but gradually came better understanding," Faiza says, hoping attitudes will change for the girl students too. - IANS

Wish to share your story?
Trending Now: