At 100, ex-army man gifts hospital to Rajasthan village
Nikhil Walia
&nbsp | &nbsp Dudavas (Rajasthan)
28-May-2012
Vol 3&nbsp|&nbspIssue 21
For Rao Kabool Singh, a World War Two veteran who turned 100 recently, it has been a life of service with the army man choosing to take up the cause of the downtrodden in rural areas after retiring in 1962.
Setting up a hospital in Dudavas, a village in Rajasthan's Jaipur district, is his latest achievement. While the hospital was built by his grandsons Madan Mohan and Krishan Mohan, who run a successful car rental service, it was the centurion who conceived the idea.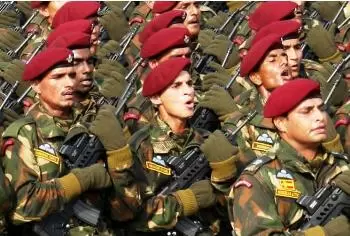 Rajasthan Health Minister Aimaduddin Ahmad Khan congratulated Kabool Singh on his 100th birthday (Photo for representation purpose only. Courtesy: Indian Army)
"We have some lands in this village and used to come here. Babaji (Kabool Singh) saw the plight of the people and expressed his desire to establish a hospital in the village," Madan Mohan said.
Kabool Singh hails from the state's Alwar district and retired as havildar. He first served in the Army Supply Corps and later in the 13 Kumaon regiment.
Besides healthcare, Kabool Singh has campaigned against gender bias, child marriage and denial of education to girls in rural areas and the sense of service towards society seems to have been passed down the generations with Kabool Singh's grandsons being equally involved in his social work.
"Today, we have fulfilled our grandfather's dream. However, our connection with this region goes beyond that. We have already adopted two government schools and plan to extend the support to other schools," Mohan added.
According to Mohan, the hospital will soon have two doctors and a gynaecologist besides the paramedical staff. "This is just a start, we plan to upgrade it to 30 beds very soon. Also, we will install an X-ray machine and we hope the hospital will begin functioning within two months," he said.
The importance of the 15-bed hospital is evident for this remote village nestled amid the rolling Aravali hills. With no proper healthcare facilities available, the villagers had to traverse several kilometres of bad roads to reach the nearest towns in case of medical emergencies.
"Earlier, we had no facilities except the anganwadi worker for childbirth and a small ayurvedic clinic. Anything serious, and we would rush to Paota or Kotputli," said Ashok, a villager.
Rajasthan Health Minister Aimaduddin Ahmad Khan congratulated Kabool Singh on his 100th birthday May 19 and lauded his humanitarian efforts before inaugurating the hospital amid much fanfare.
"I hope people would take inspiration from Rao Sahib's life. He first spent the active years of his life in the army, serving the nation, and now he spends time in social service," he said.
Kabool Singh, despite being weak due to a recent illness and seated in a wheelchair, went through every section of the newly-constructed building with the guests. - IANS

Now, You Can Give Back to TWL
Trending Now: