He saved 50 lives, but he is yet to receive any recognition for it

Brij Khandelwal
&nbsp | &nbsp Agra
23-May-2012
Vol 3&nbsp|&nbspIssue 20
River lifeguard Satish Chandra is like Mitch Buchannon, the popular character from American TV show "Baywatch" who saved people from drowning in the sea. However, Chandra has received hardly any recognition or honour even after saving 50 lives in 33 years.
"Every time I jump into the river to save a drowning person I risk my life, but I really don't care. I'm focused on saving the person who is struggling for life," said Chandra, who works at the Central Water Commission's monitoring station in Agra's Poiya Ghat on the banks of the Yamuna.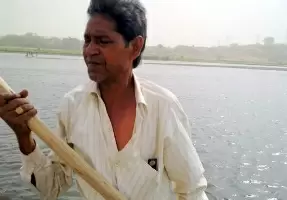 His journey as a lifesaver has not yet ended. The score is 50 and each mission is recorded (Photo: IANS)
Frail and fatigued, the 55-year-old however has no regrets.
"What I did was my call of duty, ordained by the divine power that fuels me and makes me work like a machine, pulling out people in the nick of time from whirlpools and deep waters in various rivers. But recognitions and rewards help satisfy one's ego and prove great motivators," he says.
He said he had a standard technique to safely return with the person who was drowning.
"Normally I hit the water with full power to make way and then I forcibly lift the person. Sometimes the drowning person can endanger your own life by clutching desperately to you; then you have to force him deep down so that he releases you instantly," he said.
"I cannot bear the sight of someone drowning before my eyes. In Chambal, Ganga, Yamuna, Khari and Banas - wherever I have been on duty, I have saved people. It gives me immense satisfaction when someone acknowledges with gratitude that I had been instrumental in saving him," he said.
His journey began in Chittor in Rajasthan in 1979. "An officer of the Water Commission was drowning in the river. When I saw him, I immediately plunged into the river and brought him back safely from the jaws of death."
The feat, watched by nearly 200 people, secured him a job as a temporary worker with the commission in Udaipur.
His journey as a lifesaver has not yet ended. The score is 50 and all recorded.
One incident he cannot get over was in 1993 when he failed to save two children from drowning in the Yamuna in Agra.
In 1995, a tractor crossing the Chambal river lost balance and over 35 people were swept in the fury of the river.
"But I was able to save nine lives," he said.
At the Allahabad sangam during the Dussehra of 2003, Chandra saved two girls from drowning.
During the Chatt Pooja mela in 2010, he safely pulled out one Nand Kishore, as hundreds of people watched his heroic jump and manoeuvring of the swift currents.
"I shall be glad and satisfied if some state or central honour is bestowed upon me so that others are motivated to follow my example," he said.
Interestingly, each time he has risked his life to save someone, there have been hundreds of witnesses with not one coming forward to jump along with him.
"That is not my concern. I cannot hold myself back. It is like some supernatural power taking over you and forcing you to jump and save someone," he said.
"Yes, my body is growing old but my spirit or 'josh' has not waned. Whenever there is some mela or pooja on the river banks, my eyes are focused on the water, scanning and keeping a track of everyone. Even policemen come to me and ask me to be around during the melas," he said. - IANS


Trending Now: