New book recounts thrilling escape of a prisoner from a N Korean concentration camp

Madhusree Chatterjee
&nbsp | &nbsp New Delhi
09-May-2012
Vol 3&nbsp|&nbspIssue 18
Twenty-six-year-old Shin Dong-hyuk may not be as famous Dith Pran, the Cambodian labour camp survivor in the 1984 screen drama, "The Killing Fields", but his true survival story as a condemned political prisoner in North Korea who escaped is as powerful as it is unbelievable.
Shin, who was born in one of the six sprawling Gulag style no-exit political prisons located 55 miles (88 km) north of Pyongyang, is the new North Korean labour camp hero in award-winning writer and veteran journalist Blaine Harden's latest bestseller, "Escape from Camp 14".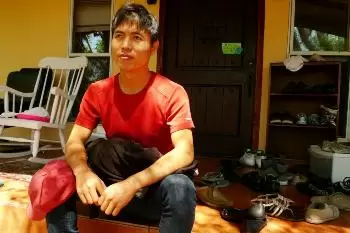 Shin walked for a month through the snow, stealing his way through obscure towns - and then in the intrepid boxcar rail to the China border (Photo courtesy: Escape from Camp 14)
The book has been hailed by the international media as one of the most "important and harrowing accounts of the North Korean Gulag".
"The prisons were set up to eliminate perceived wrongdoers and scare everyone in the country. The persistence of concentration camps in North Korea is without precedent in world history. They have lasted as long as the Soviet Gulag," Harden said on e-mail.
One of the most militarised nations in the world, North Korea is ruled by a military dictatorship.
Harden said the "most recent estimates by the South Korean government is that there are about 150,000 prisoners in six labour camps". But the US puts the number at 200,000, he said.
Shin, who survived torture and starvation, escaped from the notorious Camp 14 on a bleak winter evening in 2005 by clambering through a high-voltage fence using his dead friend Park's body as a human shield to prevent electrocution.
He walked for a month through the snow, stealing his way through obscure towns - and then in the intrepid boxcar rail to the China border.
From there, Shin eventually reached South Korea, followed by a brief jaunt to America, where he spoke about his experiences with the help of a non-profit group, 'Liberty in North Korea'.
However, the terror-stricken years in Camp 14 haunted his psyche.
The book explores Shin's grisly existence of surviving on corn ears, cabbage, roasted rats, his beatings and torture burns in a rivetting yet simple journalistic narrative.
Harden said "in the last eight months, Shin has moved back to South Korea (from the US) where he has begun webcasting with other North Korean defectors".
"A couple of times a week, he does a 90-minute programme that involves an interview and talking about his experiences. This has given him professional poise as a speaker - and a mission for his life. His emotional balance seems to have improved greatly in recent months," he said.
Harden said "the camps have operated very much the same way since the 1960s - and are as bad as before".
"In North Korea, paranoia was a natural response to real conditions and it helped these people (camp inmates) survive," says clinical psychologist Kim Heekyung in the book.
But North Korea remains unfazed in the face of international outcry.
"It does not respond to (trade) sanctions because a major patron is China, which continues to provide it with fuel, food and goods. The North Korean leadership has staunchly resisted the kind of market reforms that had remade China," Harden said.
The state controlled economy, "however, essentially collapsed after the1990s, with the end of subsidies from the former Soviet Union", Harden said.
"In the place of state system for food distribution, there is now a scruffy system of street markets that is tolerated by the North Korean government because it has become the primary means for people to find food and clothing and other essentials," he said.
Harden said China puts up with North Korea "apparently because it wants a buffer between its border and a US-allied South Korea - and because it does not want to deal with a flood of poor starving North Koreans in the event the government at Pyongyang were to collapse," the writer said.
The book, "Escape from Camp 14" has been published by Pan Macmillan. - IANS

Trending Now: