HIV positive children have a 'Home of Hope' in Chennai
Shanmuga Priya R
&nbsp | &nbsp Chennai
24-March-2012
Vol 3&nbsp|&nbspIssue 12
Music, dance and theatre have come together to help positive children 'live' their lives. Mellow Circle Prathyasha – Home of Hope, is a home for the children affected by the pernicious Human Immuno Deficiency Virus (HIV).

Mellow Circle Prathyasha Trust was established in 2007 and the Home became operational from 2009.
Prathyasha aims at providing health, education, and emotional support for the children
It is a project undertaken by Mellow Circle—a registered society of like-minded professionals, businessmen, and senior executives who pool their talent to work for the less privileged brethren of the society.

The donation of half an acre of land near Avadi in Chennai during 2007 by K N Oommen, a friend of Mellow Circle, in memory of his wife, marked the early steps.

The Home of Hope was inaugurated on 19th May, 2009 commemorating with the World AIDS Orphaned Children's Day and International Candle Light Memorial organized in memory of all those who had died due to AIDS.

Children here are also referred by the Thiruvallur Positive Network, a unit of the Indian Network of Positive People (INP). Beginning with four children, the Home now houses 15 children, of whom 12 are infected and 3 are affected.

The 2400 square feet building hosts a dormitory with attached toilets, dining hall, kitchen, and a dispensary. The Home has also indoor and outdoor games facilities.

The Home is supported by close friends, donors and few corporate bodies. But it is this group of business men, doctors, architects, teachers and other volunteers who come together to put up annual Christmas plays and music programs to raise funds for sustaining the services of the Home.

Prathyasha aims at providing health, education, and emotional support for the children. "Monthly health checkups at Thiruvallur Hospital, and periodic blood tests to monitor the CD4 count are a regular feature here," says Mohan Daniel, Managing Trustee, Prathyasha Trust .

"Our children did not like the mid-day meals that were provided in the schools and so we even pack lunch for them. During admission the CD4 count was below 300 and 200, but now it has improved to the level of any normal person," says Mohan.

What bothers Mohan is the absence of a proper framework or a diet plan for positive children from national and international bodies. "The diet we follow was prescribed by our friend Suja Isaac, Director of Soukya, Holistic Healing Center, Bangalore," he points out.

At Prathyasha, Recreation also has its share! Playground and play equipment keep the children engaged during leisure, besides classes on basic computing.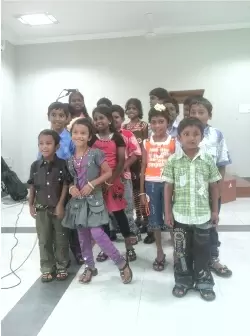 Prathyasha Home also welcomes mothers of the positive children to work here. "Not many of the mothers turn up or stay longer due to their health condition; some parents visit their children once a while and some don't. We also have some children who do not want to go back to their families at all," adds Mohan heaving a sigh.

The Home is quintessential in handling the emotional needs of the children. "Being positive cannot stop one from yearning for care and affection. When a child's grand mother died in Coonoor, the child was sent with our project coordinator taker to attend the ceremonies and brought back," he says.

"We would like our visitors to come and play with our children, spend time with them, thereby making them feel that they are normal and usual as others," explains Mohan.

The Trust is now tasked with raising the second floor of the building to provide for separate dormitories for boys and girls and study and recreation room.

For more information, you may visit www.prathyasha.in – (Courtesy: Conversations)

Trending Now: