Delhi-based doctor, Deepak Rosha, debuts as author with historical thriller
Siddhi Jain
&nbsp | &nbspNew Delhi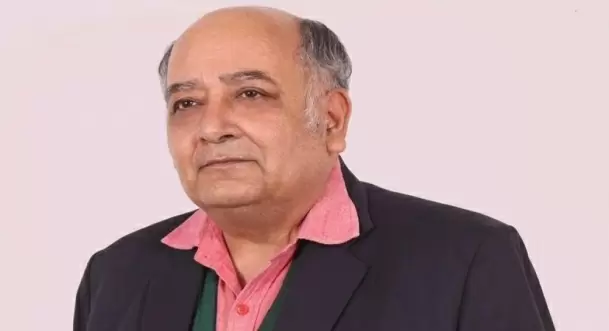 It was a 'fascinating' idea narrated to him by his mother, that led a senior Delhi-based pulmonary doctor, Dr Deepak Rosha, to debut with his first book -- a historical thriller -- several years later.

A compelling thriller that begins with the enigmatic kidnapping of a month-old baby in pre-Partition Lahore, who would ultimately surface as the ruler of an erstwhile Himalayan kingdom. 'Raja of Nowhere' is the debut novel of the Indraprastha Apollo Hospital senior consultant. Packing history, mysticism, and powerplay in a remarkable work of fiction, the novel launched Wednesday.

The story begins in Lahore, 1933, when a baby named Sudhir, is abducted from a park and is never found. Almost 70 years later, Indu Bhalla, the last survivor of her family, is handed irrefutable proof about her baby brother's current identity. He is now Jagganath, ex Raja of Hazarapur, and is also known as His Highness, The Raja of Nowhere.


Following reunion with the family of his birth, the knowledge that he is not really the heir to his erstwhile kingdom places Jagannath in a quandary. Ahead of his 70th birthday, as His Highness learns of the story behind his birth that explains the mystical experiences he had during his lifetime, including encounters with a mysterious woman and her daughter, danger looms large over his life.
In this pacey whodunnit, the author Dr Deepak Rosha puts to paper the deep insight into human nature that interactions with patients and their families gave him. Published by Kalamos Literary Services, the book comes amid the doctor's unwavering contribution as a COVID-19 warrior.
According to Dr Rosha, "The idea of this book came to me through my mother as the anecdote of a baby being kidnapped in the 1930s in Lahore, and found many years later as a grown-up in a well-to-do family, and the idea instantly struck me as fascinating. By the morning, I had thought out the whole book. Being a doctor, I couldn't find the time to write the book, so it took many years to come out. Last year, I took a leave to immerse myself in the story and finally completed the book."
"The character of Jagganath manifested as a complex and intriguing personality even as I started writing. One of the reasons why he is called 'Raja of nowhere' is because as he grew in influence as a politician, he met the erstwhile PM Jawaharlal Nehru who asked him "Raja of where?". To this Jagganath replied "Raja of nowhere, sir. There are no Rajas in a democracy!" There after the epithet stuck," he said over phone.
The mystical saga spanning across 400 years is published by Kalamos Literary Services. - IANS