Queen Bee of Indian honey industry reveals how she overthrew foreign brands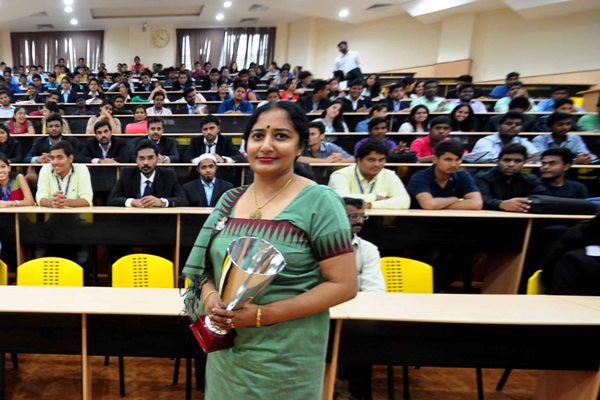 Nectar Fresh founder partner Chayaa Nanjappa, the queen bee of India's honey industry, spoke about her difficult journey as an entrepreneur and revealed how she broke the monopoly of foreign honey brands in five star hotels of India at an award function held at VIT, Vellore, earlier this week.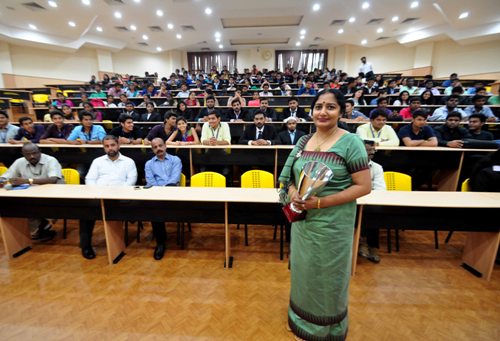 Chayaa Nanjappa with The Weekend Leader – VIT Amazing Entrepreneur trophy (Photos: H K Rajashekar)

"When you compete with international brands, you need to maintain consistent quality. We upgrade our process technology constantly to compete with the best in the world," said Chayaa, addressing the students of VIT Business School after receiving The Weekend Leader – VIT Amazing Entrepreneur trophy from Prof. N Devi Prasad, Director, School of Architecture, VIT University.

Speaking at the function hosted by VIT Business School, she traced her journey as an entrepreneur since launching Nectar Fresh in 2007.

Starting with an initial production of 500 kg of honey per month, their production has touched about 300 tonnes per month and has diversified into manufacture of jams and sauces.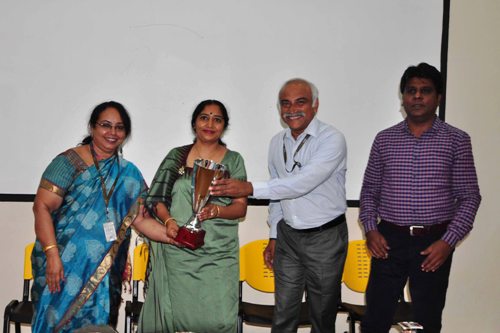 Chayaa Nanjappa receiving the award from Prof. N Devi Prasad, Director, School of Architecture, VIT University. Also seen in the picture are Dr. Kalyani Rangarajan, Dean, VIT Business School and P C Vinoj Kumar, Editor, The Weekend Leader

They produce a wide range of honey, including acacia honey, clover honey, lychee honey, Himachal honey, and forest honey.

Talking about her success, Chayaa said she single-handedly took up marketing of their products across India and abroad.

Stating that it might surprise Business School students, she said, "We don't have a budget for marketing."

However, she gave credit to her partner, Rajappa, for the company's growth.

Chayaa's success story was featured recently in the Amazing Entrepreneurs series published in The Weekend Leader.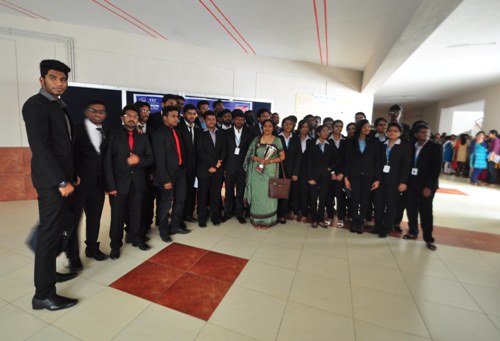 Chayaa with VIT Business School Students

She said she never hesitates to import the best machineries, if it was necessary, to create "quality products."

Backed by Karnataka government's Khadi and Village Board, Nectar Fresh has set up its factory at Mandya district in Karnataka. The unit procures honey from different places in India and is one of the largest procurers of tribal honey.

Around fifty people work in their factory. "Ninety five per cent of our employees are uneducated and rural folk. We have empowered and trained them," she said, adding that Nectar Fresh replaced international brands like Beerenberg, Darbo and Bonne Maman, which catered to the five star hotels in India since the last more than two decades.

"Name the top hotels in India, they are our clients today," she said, and went on to list ITC, Hyatt, Marriott, The Taj, Hilton, among others, as her clients.

Nectar Fresh is now set to make forays into foreign markets.

Hailing from the green hills of Kodagu in Karnataka, the first generation woman entrepreneur said they have planned to launch a new type of jam, made with local produce from Mandya farmers, which would "have no flavour, no colour, and no preservatives."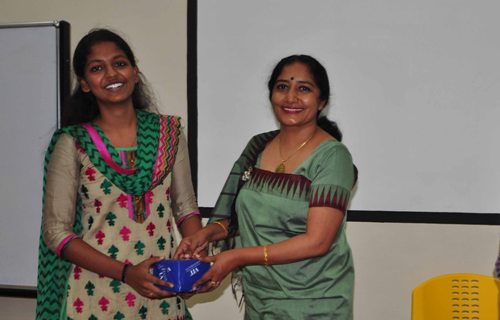 Madhumitha, BBA second year student, receiving the 'best question' prize from Chayaa

She has taken the initiative to support the farmers in the district in the wake of a spate of farmer-suicides in the region.

The product is expected to be launched in January. "We should be able to support at least 100 farmers," she said.
Chayaa's address was followed by an interactive session with the students, which was moderated by The Weekend Leader Editor, P C Vinoj Kumar.
Earlier, Prof. N Devi Prasad and Dr. Kalyani Rangarajan, Dean, VIT Business School, addressed the students. – TWL Bureau