NDA government has killed UPA's land Act: Rahul Gandhi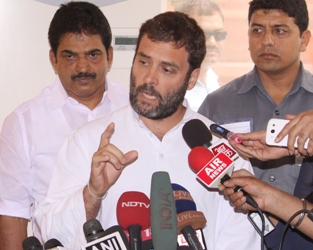 Congress vice president Rahul Gandhi on Tuesday accused the NDA government of "killing" the land bill passed by the previous UPA government.
An aggressive Gandhi warned the government that it won't be easy for them to get their way.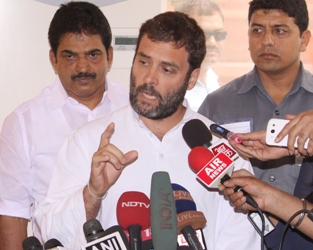 Congress vice president Rahul Gandhi at the Parliament in New Delhi on May 11, 2015. (File Photo: Amlan Paliwal/IANS)
"This government is in a hurry to pass this bill... It will not happen so easily. If we are not able to stop it here (in parliament), we will hit the streets against it outside," he said, speaking in the Lok Sabha on the land acquisition bill.
The Congress leader said the government has removed the essential clauses on consent and social impact in its new bill.
He took repeated digs at the government, terming it "suit boot ki sarkar" and pro-corporate.
"We took two years to bring land bill. NDA government killed it within a few days," he said.
He termed the consent clause of the 2013 land act brought by the United Progressive Alliance (UPA) government as the "most important" part of the legislation.
"(The government) says that if they snatch land, they will do so without asking (the farmer)," Gandhi said.
He said the government has used the axe second time after the "corpse (of bill)" fell. The government was of the view that there should be no social impact assessment (SIA), he added.
Gandhi said the government used the axe for the third time to remove from the act the provision which provided for return of land to the farmer if the project was not initiated in five years.
"Whether the project is completed in five years or 50 years, land will not now be returned to the farmer," he said.
Gandhi, who faced repeated interruptions from the treasury benches, said that according to information obtained from the finance ministry under the Right to Information Act only eight percent projects were pending due to problems concerning land.
"The government has land. Forty percent of land in SEZs (special economic zones) is vacant. But you want to snatch the land of farmer," he said.
Accusing the National Democratice (NDA) government of trying to "grab" the land from farmers, the Congress vice president said: "A soviet economist once told me that thieves do not come only at night, but during day time (and) that too wearing suit-boot."
"There is no dearth of land. You want to grab the land of the farmers," he said, adding that land was being taken in places like Noida and Gurgaon near the capital where the returns were high and not in Bundelkhand or Rajasthan.
"The government wants to give the land to capitalists. This is actually a suit-boot government," he added.
Trinamool Congress member Sudip Bandopadhyay also opposed the bill, saying his party was for land owners and farmers to discuss among themselves and settle the price of land.
CPI-M member M. Saleem accused the government of selling off the natural assets of the country to capitalists. - IANS