Tamil groups want Maratha hold over Thanjavur Big Temple to go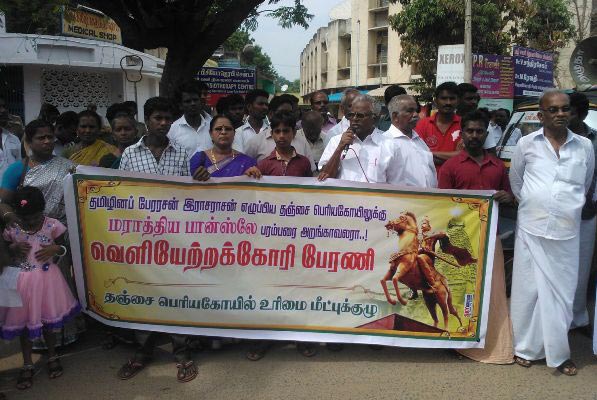 The controversy over a Maratha holding the post of trustee of the magnificent over millennium-year-old Big Temple and 87 other temples built by Tamil Chola kings has again flared up after a lull.
Babaji Bhonsle, the current head of the Maratha royal family of Thanjavur, continues to be the hereditary trustee of the palace `devasthanam' which administers 88 temples including the Peruvudayar Temple, popularly called Big Temple, commissioned by Chola king Rajarajan I in 1010 AD.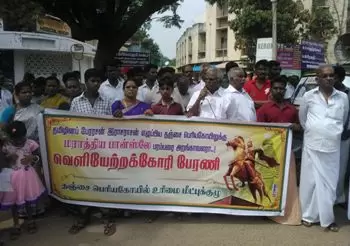 Tamil groups held a demonstration in support of their demand
"Bhonsle, who hails from the Maratha community, being the hereditary trustee of temples built by Cholas, is not only contradictory to the provisions of the Hindu Religious and Charitable Endowment (HR & CE) Act but also to historical facts," says P Maniarasan, coordinator of the Big Temple Rights Retrieval Committee.
The committee comprising various Tamil outfits was formed in 2005 with an objective to impress upon the Tamil Nadu government to remove Bhonsle from the post and ensure complete takeover of the administration of all the 88 temples remaining under Thanjai palace devasthanam. Its demand, however, was not met with by either of the Dravidian rulers – the DMK and the AIADMK.
Maniarasan says, "Marathis are not aliens. They are long-time settlers of Tamil Nadu. We have no objection to Bhonsle except that he should be stripped off the post of hereditary trustee, as he neither belongs to Chola nor Tamil lineage.
"He is also not the legal heir of Maratha kings who conquered Thanjavur defeating the Nayaks."
He wonders how Bhonsle could continue to receive the honour when HR & CE Act mandates that only those who build temples and donate their lands and meet the daily expenses of worship can enjoy the status.
While successful in prevailing upon the government over not addressing him as `senior prince', the committee now urges the government to withdraw his "sole power to sign cheques". It also wants the entire palace - a portion of which is occupied by Bhonsle's family - to be brought under the ambit of state archaeology department.
The demands were reiterated on the occasion of sadhaya vizha, the birth anniversary celebrations of Raja Raja Cholan, held on Nov 2.