Can Bollywood stars give Indian football the 'kick' forward?
Uma Ramasubramanian
&nbsp | &nbspMumbai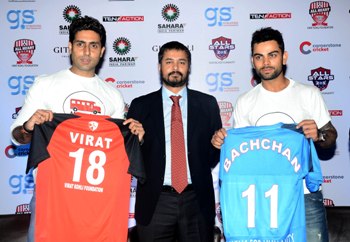 Bollywood stars Abhishek Bachchan, Ranbir Kapoor and John Abraham have gone all out to support the inaugural Indian Super League (ISL). The celebrities are hopeful that their star power will herald a new era for football, as well as other sports, in the country.
Sports tournaments like Indian Premier League (IPL), Pro-Kabaddi League and Hockey India League (HIL) have already witnessed participation from cine-stars either as promoters or co-owners.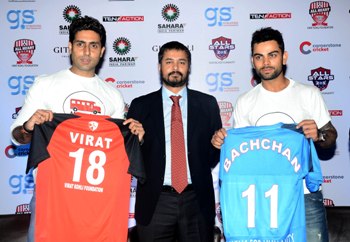 Bollywood actor Abhishek Bachchan with Indian cricketer Virat Kohli during a celebrity football match in New Delhi (Photo: Indian Photo Agency)
Here's a dekko at what some stars have to say about celebrity involvement in the ISL, and how it can help the sport.
* Shah Rukh Khan: I think the more leagues you have, the better it is for sports. I'm glad that people are venturing into football. It's very good. But I'm not venturing into it as it's too expensive for me... I wanted to pitch for this, but it was way expensive.
If it's a football team, then it has to be Kolkata for me, and it didn't seem possible at the cost that it was.
* Abhishek Bachchan (co-owner Chennaiyin FC - ISL team): I always wanted to be associated with Indian football, and it's something that I feel very passionately about -- India's position in sports. We Indians have a very long association with sports, and I do believe that a (film) star's support will help the sport. With whatever popularity I have, I will try and push the envelope. I think it's a very healthy thing to do.
I always wanted to have an Indian football team. We have a wrong notion that sports is not a viable career option. I want to change that. It's a serious profession.
My goal is that by 2026, I want the (Indian) football team to reach the FIFA World Cup and for that, ISL had to start today (now). It's (the scenario) not going to change soon, it will take time.
* Deepika Padukone: I don't think I can own a football team because I'm not money-minded, I don't understand business and even my father doesn't understand business. But if someone wants me to be the brand ambassador and promote a sport, I will be more than happy to do so.
I'm extremely happy that actors are being associated with ISL. I think it's fantastic that they are glamourising the sport as it will help spread awareness about the sport. So many sports are being promoted and so many biopics on sportspersons are being made. I think its great!
* Boman Irani: I've been so involved with sports since childhood. I live football, and if you check my Twitter, I was continuously tweeting about football during the World Cup. I'm aware of it and I understand football, cricket and tennis. I'm glad actors are being associated with a football league. It's a great step.
* Shriya Saran: Sports should speak for itself. I know a lot of actors are coming in, but I don't think it creates much awareness. I think it's less about awareness, and more about pumping in money. I think awareness needs to be created in schools and colleges. I don't think we should dilute the importance of sports with the celebrity. Having said that, yes, actors investing their money and giving their time might help to create awareness, but beyond that sports should speak for itself.
I'm the brand ambassador for the Indian Blind Football Team. Not many people know about it, but we have been playing great games. It's the blind people who play for India -- it's an another extension of what I do, and I love it. Even though they can't see, it's the passion for the sport that keeps them going. - IANS