You are that single man and woman who can make a difference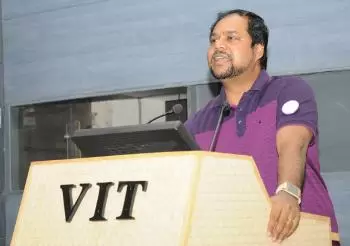 In a stirring speech at VIT Vellore last week, C K Kumaravel, Co-founder of Naturals Beauty Salon chain, traced the journey of Naturals from the launch of its first outlet in 2000 to its current stature of 400 plus outlets across the country.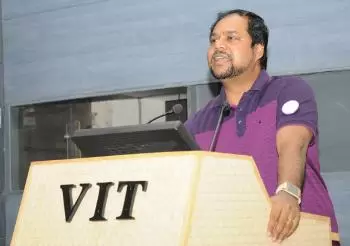 C K Kumaravel addressing students of VIT Business School, Vellore (Photos: Media Ramu)
Addressing VIT Business School students, Kumaravel, who was featured as an Amazing Entrepreneur in The Weekend Leader, said one has to shake off the middle-class mindset that was averse to taking risks and not be sacred of failures to succeed in life.

For someone who failed in his first venture, and started afresh with Naturals that he along with his wife Veena co-founded, the 49-year-old entrepreneur's words carried a lot of conviction and the auditorium remained packed till the end of his lecture.

Making a reference to Mahatma Gandhi, Kumaravel said in India the Father of the Nation's birthday was celebrated with people distributing sweets, and going home to watch television.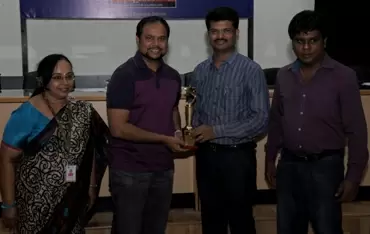 G V Selvam, Vice President, VIT presenting the Amazing Entrepreneur trophy to Kumaravel as Kalyani Rangarajan, Dean, VIT Business School and P C Vinoj Kumar, Editor, The Weekend Leader look on
In contrast, he added how he is perceived in the US. "In the US Congress there is a portrait of Gandhi. Below the portrait it is not written, 'Mahatma Gandhi – Father of the Nation, India or Mohandas Gandhi: 1869 – 1948.' It is written, 'A single man can make a difference."

He said, "Each of you here is a single man who can make a difference and a single woman who can make a difference. Your entry into this world can go unnoticed, but your exit should not be."

Kumaravel congratulated first-rank holders, gold medalists and also backbenchers. He said the backbenchers usually did well in life. The comment drew the loudest applause from students.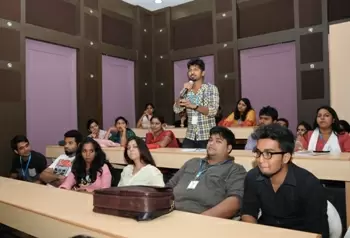 A student interacting with Kumaravel
The lecture was followed by an interactive session with students.

G V Selvam, Vice President, VIT University presented The Weekend Leader Amazing Entrepreneur trophy to Kumaravel.

Dr. Kalyani Rangarajan, Dean, VIT Business School made the introductory remarks and P C Vinoj Kumar, Editor, The Weekend Leader, introduced Kumaravel to the audience. – TWL Bureau