True love stays forever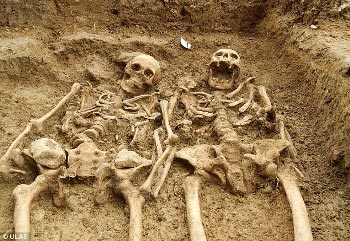 Only true love stays forever is a saying that has been proved to be true as British archeologists have unearthed skeletons of a couple holding hands while searching for a lost chapel in Leicestershire, media reports said.
The skeletal remains of the couple were locked in an embrace for the past 700 years.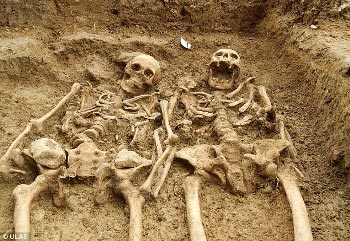 The two skeletons had been holding hands for 700 years (Photo Courtesy: University of Leicester Archaeological Services)
"We have seen similar skeletons before from Leicester where a couple has been buried together in a single grave," said Vicki Score, a project manager with the University of Leicester' Archaeological Services (ULAS).
Archeologists believe the lost chapel of St. Morrell could have served as some sort of special place of burial at the time.
Through radiocarbon dating process, archaeologists found 11 skeletons from the site dating back to the 14th century.
"The site may have served as a place of pilgrimage in Hallaton, a village in east Leicestershire, during the 14th century, researchers noted.
They also found money among the ruins, including several silver pennies, dating back to the 12th-16th centuries. - IANS