B School students motivated to turn entrepreneurs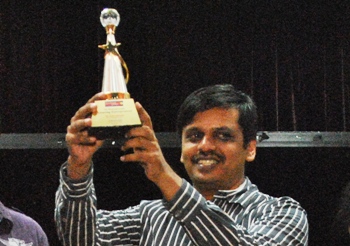 Bus ticketing portal Ticket Goose.com's CEO Arun Athiappan, who received The Weekend Leader Amazing Entrepreneur Trophy Tuesday at VIT Vellore, said the company planned to raise funds of $ 10 million for its expansion to achieve a targeted turnover of Rs.3000 crores by 2020.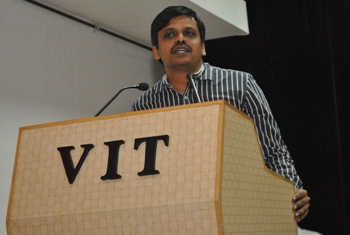 Arun Athiappan addressing students of VIT Business School (Photos: Media Ramu)
He said their company, whose current turnover is Rs.55 crore, hoped to make profit in about three years' time. The size of online bus ticketing market currently estimated at Rs.2000 crore is expected to grow to Rs.50000 crore by 2020.
Addressing MBA students of VIT Business School, he said their website provided all necessary information that one needed to make a decision while booking a bus ticket on the first click after giving one's travel details.
"It makes your decision process easier and you don't have to click the second time to get any further details," he said, during an interactive session with the B school students who wanted to know how Ticket Goose differentiated itself from other bus ticketing portals.
Arun said the company also had plans to introduce more value to the customers by introducing apps that would give real time information on location of buses they would be boarding.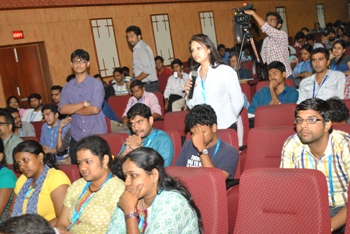 Students interacting with the entrepreneur
They also planned to introduce apps which would help the customers rate the restaurants that the buses would stop for food.
There were also plans to tie up with hotels for short 4-hour stays which would help business travelers who would need a place just to refresh themselves and carry on with their work for the day. Such travelers would not require a place to stay overnight.
When asked about his company's Corporate Social Responsibility programs, Arun said he had fulfilled his social responsibility by creating jobs for 110 people who were employed in their 3 offices in Chennai, Bangalore and Hyderabad.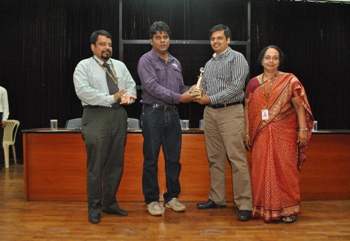 P C Vinoj Kumar handing over trophy to Arun as M J Xavier and Kalyani Rangarajan look on
M J Xavier, Executive Director, VIT University, encouraged the students to become entrepreneurs. "Be a job creator and a job giver," he told the students.
Prof Kalyani Rangarajan, Dean, VIT Business School, Vellore, welcomed the guests and spoke about the programs being jointly conducted by The Weekend Leader and VIT University.
The Weekend Leader Editor P C Vinoj Kumar introduced Arun to the audience and handed over the Amazing Entrepreneur trophy to him. – TWL Bureau