Thank you, say kids with cancer on Doctor's Day
Anjali Madan
&nbsp | &nbspNew Delhi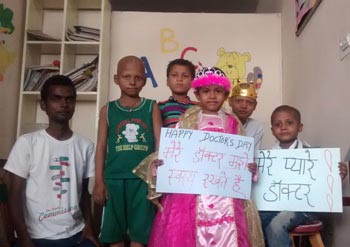 Little hand-made greeting cards, decorated candles and bookmarks are lined up on a table as a group of children painstakingly give final touches to gifts that they have made over the past few weeks.
This is not a scene at a playschool but at the patients ward at the Palliative Care Centre of NGO Cankids...Kidscan, where children undergoing treatment for cancer are all set for thanking their doctors and nurses with gifts and cards on July 1 - the National Doctor's Day.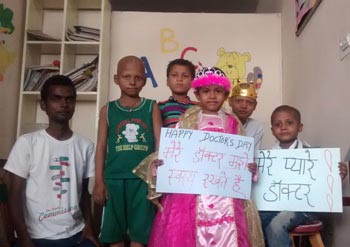 Children with cancer celebrate National Doctor's Day at a medical centre in Delhi (Photo: IANS)
"It's a surprise. Don't tell doctor uncle," whispered Mannat, 5, a blood cancer patient from Bihar who is on a routine visit to the NGO's south Delhi-based centre.
Maroof , 14, a bone cancer patient from Uttar Pradesh, is acting as the leader of the busy kids.
"We had no clue that there is a day to thank our doctors. Didi (a caretaker) told us and asked if we were interested in doing something special on that day," he said.
Sister Hanife MacGamwell, a French nurse, volunteering at the Cankids care centre, watches the kids as they work together for the special gesture.
"They jumped on hearing the idea," said MacGamwell. "Cankids is celebrating Doctors and Nurses Day together on July 1 all over the country. In all the 38 cancer centres where we have a presence, we are getting the children to make cards like this."
Sister Mani Subhash, a nurse-cum-counsellor working in the NGO, said: "The kids are enjoying the activities because they enjoy being a part of all the preparations and have something special to look forward to. The parents are always grateful to the doctors and nurses who work so hard to save their children's lives and they are glad for this opportunity to say Thank you in a special way and make a celebration out of it."
Kamal Pramanik, 6, a West Bengal resident suffering from liver cancer, has already sent a greeting card each to Cankids' doctor Haresh Gupta and the NGO's chairperson Poonam Bagai in Delhi.
He has drawn a rainbow and lots of rasgullas on the card, said Bagai.
Many doctors who have already got the Doctor's Day cards have started tweeting about the kids' doodles, said Bagai.
She said: "Thanking the doctors and nurses for all that they do for the children and their families is a small but important way to express gratitude."
"It is an enriching experience for both the children who give the cards and gifts and the doctors and nurses who receive them," she said.
Gini Gulati, the NGO's director of National Outreach, said: "Last year we celebrated International Nurses Day across the country on May 12 for the first time. This year we are celebrating on Doctors Day. By next year we will be able to celebrate both occasions separately across all the cancer centres where we run our Cankids support units."
Doctor Ramandeep Arora of Saket's Max Hospital is planning to get chocolates for the little bravehearts on this day.
"It will be a small gesture from our side to bring cheer to the kids," said Arora.
Every year about 50,000 new cases of childhood cancers are reported in the country. The most common are blood cancers, including Acute Lymphocytic Leukemia, followed by brain cancers, lymphomas, and sarcomas. The cause of most childhood cancers is unknown, but most are far more curable than adult cancers.
Experts believe despite growing awareness about cancer in children, there is a need to increase the spread.
"This leads to early detection and diagnosis. The survival of cancer-affected children is improving in the country and we aim to catch up with the developed nations, where survival rates are as high as 70 to 95 percent," Bagai said. - IANS