MBA students learn lessons from part-time shoe shiner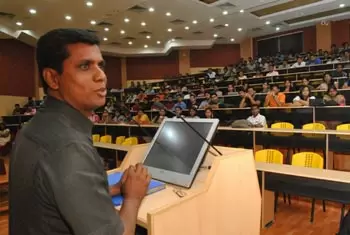 Students at VIT Business School, Vellore, were moved to tears on Wednesday by the inspiring story of S Selvakumar, an unsung hero of Tamil Nadu, and gave a standing ovation to him at the end of his 40-minute address that was spiced with anecdotes from his field experiences.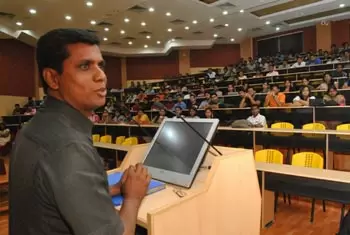 Selvakumar addressing the students of VIT Business School, Vellore (Photos: Media Ramu)
Selvakumar, who works as a Tamil lecturer in a private college in Chennai, runs a primary school that provides free education to orphaned and destitute children. To raise funds for the school he works as a shoe shiner every weekend.
The 34-year-old lecturer said he had faced humiliating situations when he had been chased by cops for doing his work on the roadside.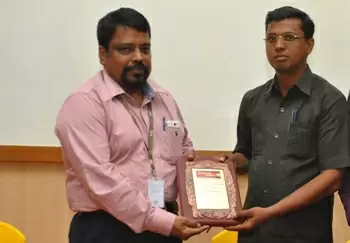 Prof M J Xavier presenting memento to Selvakumar
To a question from a student on how he would handle depressing moments, Selvakumar said since all that he was doing was not for his own self, but for his students whom he considered as his own children, he is able to carry on with his service.
Selvakumar exhorted the students to care for the poor and challenged them to be not miserly in showing love and affection to the underprivileged.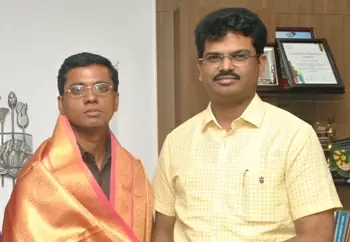 Selvakumar with VIT Vice President G V Selvam
Aparna Vasudevan, an MBA student, said she had no words to express her feelings. "His speech was so motivating, inspiring, and emotional. He made us feel everything is possible in this world if we have the determination."
She said, "Sir, you are a living example of hard work. I salute you."
Sindhuja, another student said, "We really had a great time. His speech impressed us a lot and it made everyone of us to think high like him. He is really great, and such an awesome personality!"
Selvakumar with (from l to r) P C Vinoj Kumar, Editor, The Weekend Leader, G Viswanathan, Chancellor, VIT University, and Prof Vasumathi, VIT Business School
Prof M J Xavier, Executive Director, VIT University, lauded The Weekend Leader for celebrating people like Selvakumar and identifying unsung heroes like him to readers.
He presented a memento to Selvakumar.
Prof Subha Shree proposed the vote of thanks.
Later, VIT Chancellor G Viswanathan and Vice President G V Selvam felicitated the unsung hero and encouraged him to continue his service. – TWL Bureau