Jayalalithaa faults Modi for inviting Rajapaksa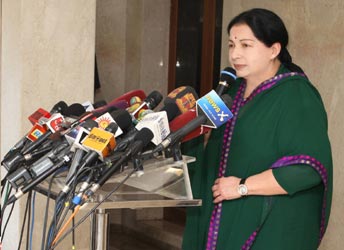 Tamil Nadu Chief Minister J. Jayalalithaa Thursday termed as "unfortunate" the invitation extended to Sri Lankan President Mahinda Rajapaksa to attend the swearing-in ceremony of India's new prime minister Narendra Modi.
"We had hoped that the new government ... would be sympathetic to the cause of Tamils and friendly to Tamil Nadu," Jayalalithaa said here in a statement.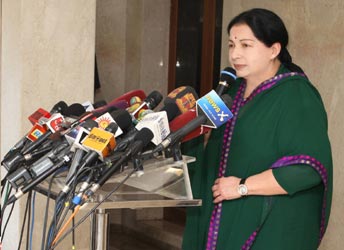 Chief Minister Jayalalithaa said the invitation to Rajapaksa has deeply upset the people of Tamil Nadu (Photo: Media Ramu)
She said the "unfortunate move" of inviting Rajapaksa "has deeply upset the people of Tamil Nadu and wounded their sentiments all over again.
"This is tantamount to rubbing salt into the wounds of the already deeply injured Tamil psyche," she added.
Heads of government of all eight SAARC countries, Sri Lanka included, have been invited to attend Monday's swearing-in ceremony of Modi as India's new prime minister.
Besides Rajapaksa, leaders of the Maldives, Afghanistan and Nepal have accepted the invite.
Jayalalithaa said it would have been better if the "ill-advised move" had been avoided, keeping in mind the relationship the Modi government would like to have with the Tamil Nadu government.
"There has been a general election and a new government is to take charge in a few days but this in no way alters the already existing strained relations between Tamil Nadu and Sri Lanka," she said.
Jayalalithaa has turned a bitter critic of the Rajapaksa regime over the death of thousands of innocents in the end stages of Sri Lanka's war which rushed the Tamil Tigers in 2009.
Jayalalithaa denounced the Congress for its alleged pro-Colombo policy while seeking votes in the Lok Sabha election. The Congress was washed out in Tamil Nadu while her AIADMK won 37 of the 39 Lok Sabha seats.
Jayalalithaa said Thursday that the Tamil Nadu assembly had passed resolutions during the last three years on the "war crimes" in Sri Lanka.
"We had demanded an economic embargo on Sri Lanka and urged that India should take the lead in bringing a resolution in the UN for those accused of war crimes and genocide to be brought before the International Court of Justice and that they should be made to face trial," she said. - IANS

Also Read

Editorial: Narendra Modi has let down the Tamils