Narendra Modi has let down the Tamils
The invitation extended to Sri Lankan President Mahinda Rajapaksa to attend the swearing in ceremony of Narendra Modi as India's 14th Prime Minister is an ill-advised move that has destroyed in one stroke the expectations of the people of Tamil Nadu that India's Sri Lankan policy would change under the new Government.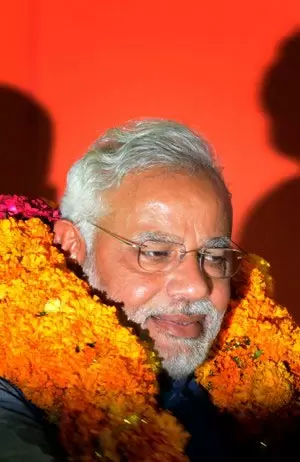 Narendra Modi (Photo: Indian Photo Agency)
The Congress suffered its worst drubbing in the recent elections in Tamil Nadu with its candidates losing their deposit in 38 of the 39 constituencies in the State. In most places the Congress candidates finished in the fourth place.

A major reason for the poor showing of the Congress in the State was the UPA Government's handling of the Sri Lankan Tamils issue, and its inability to protect the rights of Tamil Nadu fishermen who were often detained by the Sri Lankan navy on charges of fishing in their territorial waters.

In several incidents, the Sri Lankan navy has damaged the boats and nets of the Tamil Nadu fishermen, seized their catch, and beaten them black and blue. During the UPA regime, New Delhi seldom took up these incidents with Colombo. On the contrary, Indian officials echoed the Sri Lankan position that our fishermen were at fault and they were crossing into Sri Lankan waters.

At the time of the elections, both DMK and AIADMK realized the public fury against the Congress and did not choose to ally with the party. Congress was forced to contest alone and hurtled to its humiliating defeat in the State.

Now, Narendra Modi's invitation to Rajapaksa has reopened old wounds of the Tamil Nadu fishermen, who were hoping that the BJP-led government would stand by them and send out a tough message to Colombo.

Modi has let down the Tamils. Even his own ally, MDMK, feels betrayed. MDMK leader Vaiko has said that the invitation extended to Rajapaksa "has come as a lightning bolt." Tamil Nadu Chief Minister J Jayalalithaa is likely to skip the swearing-in function to register her protest. Several Tamil outfits and parties have also condemned the invitation to a man, who is facing grave charges of genocide and war crimes against the minority Tamils in his country.

There are also speculations that Sushma Swaraj may be appointed as External Affairs Minister. Sushma's appointment to this crucial post would be another blow to Tamil interests, as the BJP leader is believed to enjoy a good relationship with Rajapaksa, and her understanding of the Tamil issue leaves much to be desired.