Why politicise Ganga aarti, Kejriwal asks Modi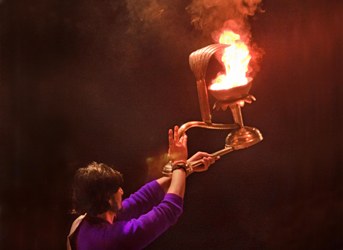 AAP chief Arvind Kejriwal Thursday accused BJP's prime ministerial candidate Narendra Modi of politicising the issue of the 'Ganga aarti', saying no permission was needed to perform it.
Showing a letter from the Election Commission giving Modi permission to perform the 'aarti', Kejriwal said: "No one needs any permission from the Election Commission to perform rituals. Permission is required only for political activities."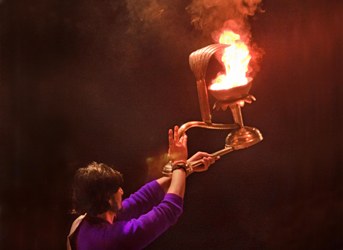 Kejriwal contends that no permission is needed to perform an aarti since it is not a political activity (Photo: Indian Photo Agency)
He said it was not correct to make political capital of Ganga aarti, which thousands do every day on the banks of the Ganges here in Varanasi.
"They (BJP) said they asked for permission. But you do not need permission to perform an aarti unless you are using party flags, banners or indulging in political activity," Kejriwal told TV channel CNN-IBN.
"You need permission for political activities, not religious. I have gone to perform the aarti so many times. I even go alone," the former chief minister of Delhi said.
Kejriwal also wanted to know why senior BJP leaders were on a "dharna", and said their only aim was to remain in media spotlight ahead of the Varanasi Lok Sabha election Monday.
The Aam Aadmi Party leader said the Varanasi administration had asked the Bharatiya Janata Party to change the venue of one of the two rallies it wanted to hold Thursday.
He felt the BJP should have agreed to the request.
Earlier, Kejriwal tweeted: "Why doesn't he (Modi) go and perform (the) aarti? Why politicise it?"
He said he was not stopped by anyone when he visited a temple near the Ganges. "I will again go today with my wife." - IANS