Akhilesh-Dimple duo charms city of perfume
Rashmi Saksena
&nbsp | &nbspKannauj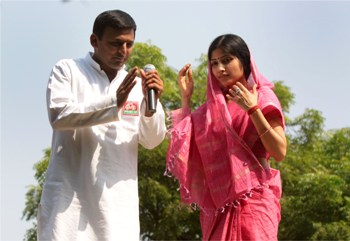 Kannauj, the city of 'itar' (indigenous perfumes) is reeling under the Akhilesh-Dimple fragrance. Uttar Pradesh Chief Minister Akhiliesh Yadav and his 35-year-old wife Dimple, who is seeking re- election from this Lok Sabha constituency in the Lower Doab region of the Hindi heartland, are on a charm offensive, sharing the dais at rallies, jointly addressing voters and undertaking road shows.
That the duo operates as a well-knit team was in full play when IANS caught up with them at their Samajwadi Party headquarters in Kannauj. Enthused party workers, shouting "bhaiya, bhabi zindabad" packed the hall in which Akhilesh and Dimple sat after addressing a rally nearby. Repeated requests to pipe down went unheeded making it impossible for Akhilesh to answer questions posed by IANS.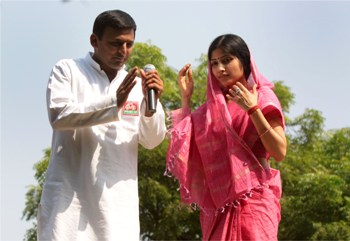 The couple operates as a well-knit team (Photos: Indian Photo Agency)
Dimple glanced at Akhilesh, who nodded. On cue she walked out announcing "bahar chaleya, wahan baat karte hain" (let us go out and we will talk there). The crowd followed, falling over each other to touch her feet.
With homilies like "I know you all well, especially you Salman because your name is that of my favourite actor", she had them all eating out of her hand. In jest, she added: "Mere liye bhi naara lagao, kewal bhaiya ke liya nahin. Mein tumhari candidate hoon" (Raise slogans for me too, not only bhaiya. I am your candidate."
Akhilesh, confident of his wife's win, spoke of the development work in Kannuaj in the last two years. "It is more than any other government has done so far."
He listed the roads and bridges constructed. "Look at the paved roads by the state government and look at the condition of NH (National Highway)-91 and NH 91A to which they are connected and come under the central government." He also listed the medical college and other educational institutions that have come up in Kannuaj.
Ayub, the owner of 120-year-old itar manufacturing company Yaqub Perfumeries, was all praise for the regular electricity and water supply in Kannauj.
"Itar-making requires gas and electricity. Water is essential for the cultivation of roses, belas and other flowers from which we derive the perfume. The entire traditional industry will die without this."
The population of Kannauj constituency is 1.6 million. About 83 percent of them are farmers who grow flowers. "The Yadav family has done good work for Kannauj," Ayub stated.
Akhilesh felt that there is no issue in Kannauj,except the development of the area,and nothing can negate this. He dismissed the perception that he has no control on the virulent communal statements made recently by SP leader Azam Khan and the anti-women remarks of his father Mulayan Singh Yadav could affect the electoral chances of Dimple in the Hindu-dominated constituency.
"They have been misunderstood. Azam Khan was only drawing attention to the sacrifice by Muslim soldiers during the Kargil war. Netaji (his father) was merely advocating doing away with death sentence in favour of life sentence (for rape). He was not condoning rape," Akhilesh IANS
Was campaigning for Dimple a show of family influence?
"What is wrong in campaigning for my wife" he countered. He blushed and smiled when asked if it was out of affection for her or for political gain.
Akhilesh married Dimple, the daughter of an army officer,after a long courtship in 1999, when she was just 21. He is said to have fallen in love with her when she was studying humanities at Lucknow University.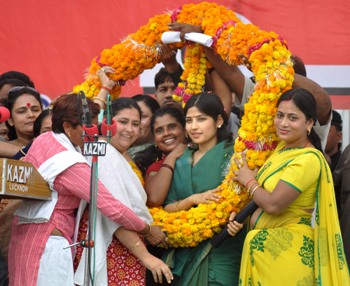 Dimple is a fitness freak and loves horse riding
The couple preferred to keep away from the hurly-burly of politics in which the Yadav family was steeped. Life changed when Akhilesh was elected an MP in 2000.
Dimple came on the political scene in 2009 when Akhilesh relinquished the Ferozabad seat and she contested. She was defeated by Congress candidate and actor Raj Babbar. But she won unopposed in the 2012 by-election caused by Akhilesh becoming the chief minister.
Dimple, a known fitness freak who loves horse riding, admitted she has now come to enjoy public life.
"I am here because my people want me to be here. I want to develop Kannauj to be amongst the top 10 developed cities of UP. My father-in-law, my husband and I can together do this," Dimple asserted to IANS.
Kannauj votes April 24 in the seventh phase of the 10-phased Lok Sabha elections that began April 7 and will conclude May 12. The results will be declared May 16.
Polling has so far been held in 21 of the 80 Lok Sabha constituencies of Uttar Pradesh. Polling in the remaining 59 constituencies will be held April 24 and 30 and May 7 and 12. - IANS