Chennai's kind-hearted bachelor, who is Papa to many
He made a quiet entry, as he walked inside the auditorium, where the function was to begin 15 minutes later.
Papa Vidyaakar, founder of Udavum Karangal, an NGO in Chennai, was the guest speaker at a gathering of The Weekend Leader's Friends of Positive Journalism (FPJ) in the city last week.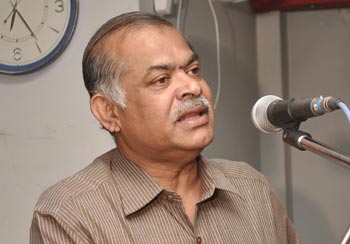 Vidyaakar spoke about the struggles and challenges in a social worker's life (Photos: Media Ramu)
His unassuming nature and simplicity won him many admirers from the audience that included several youth.

"We have been inspired by your work," said Benny, a student of Arena Animation, Anna Nagar, after listening to Vidyaakar's speech that provided an insight into his life as a social worker in the last three decades.

Vidyaakar, who has raised scores of abandoned children, giving them motherly care, food, shelter, and education, said he liked to do his work silently, without making any noise, in accordance with the laws of the land.

"Social work is a profession. It needs learning and experience," said Vidyaakar, who has done his masters in psychiatric social work from Madras School of Social Work.

Sixty girls from his home are now happily married. "One of them got married just couple of days ago to a boy who is working in Wipro. Since February, eight of my children got married," said Vidyaakar (60), who has chosen to remain a bachelor.

He is 'Papa' to every child who grows up under his care. All his children carry the Vidyaakar surname, which gives them a sense of identity and belonging.

Udavum Karanagal (Helping Hands) is also a home for the physically challenged, psychiatric patients, and the elderly. At present the organization has 1800 people under its care.

"It is a 24-hour job. You have taken the responsibility of looking after so many people. It is difficult to sleep. We have to be careful always. Small things can flare up," Vidyaakar said, adding that some untoward incidents still take place in spite of the precautions they take.

Once a boy, who had the habit of hiding himself in dark places, slipped, and fell into a septic tank, which had remained uncovered due to the carelessness of some workers.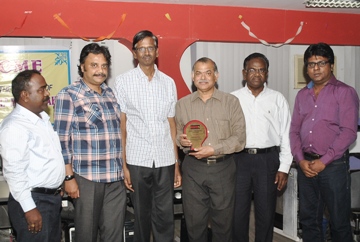 Vidyaakar with FPJ members (From L to R: Selva Kumar, P Saravanaraja, Babu Kannan, Vidyaakar, U Karunanithi, P C Vinoj Kumar)
In another incident, a mentally challenged inmate had choked to death after she had swallowed a large piece of cake distributed by a visitor.

Vidyaakar said he derived positive energy to continue his mission by his faith in God. "I believe in God and God believes in me," he said.

P C Vinoj Kumar, Editor, The Weekend Leader, anchored the interactive session with the audience.

FPJ Chairman P Saravanaraja commended Vidyaakar's service to the community and pointed out that the social worker was born in Kollegal in Karnataka - close to the Tamil Nadu border - the same place where (forest brigand) Veerappan was born.

Saravanaraja announced that he was ready to provide scholarships to children from Vidyaakar's home at the animation institute he runs. His announcement was greeted by applause from the audience.

FPJ Member Kannan Babu presented a memento to Vidyaakar, and U Karunanithi, Director, Outreach, The Weekend Leader, proposed the vote of thanks.