Sri Lanka detains Tamil activist mother-daughter duo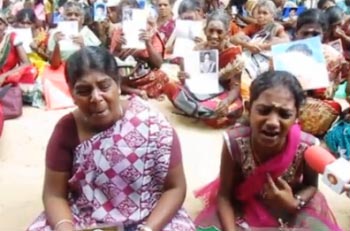 Sri Lankan police have arrested a teenage girl Vidushika and her mother, Balendra Jeyakumari, a widow, from Dharmapuram in Kilinochchi district Thursday and the whereabouts of the duo is not known even after 24 hours.
According to reports, the mother-daughter duo had been in the forefront of protests conducted by the Tamil families of disappeared persons in the Northern Province.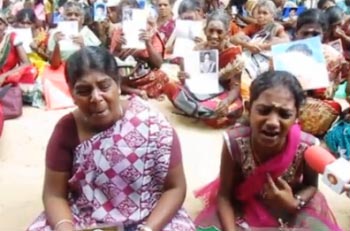 The mother-daughter duo has participated in several protests against the Sri Lankan government (Photo for representation purpose only)
In a statement, the Tamil National Alliance (TNA) expressed its concern for the "safety and well being of Jeyakumari and Vidushika, particularly given the context of reported widespread sexual violence against women in the Northern Province."
The TNA urged the international community to take all possible measures to ensure the safety and release of the women.
According to the TNA, "Jeyakumari and Vidushika are active participants in most protests conducted by families of the disappeared in the Northern Province.
"Jeyakumari's two sons were killed in the war and the third went missing after she handed him over to the military in May 2009. Vidushika is her only remaining child.
"A massive contingent of several hundred security personnel surrounded Jeyakumari's house last afternoon, confiscated their mobile telephones and interrogated them for over four hours before taking them away.
"They were reportedly held in Vavuniya overnight and were to be produced before a Magistrate today, Friday 14 March 2014
"However, as of 3.00 pm, they are yet to be produced.
"TNA Members of Parliament Mavai Senathirajah and E. Saranapavan have been at the Magistrate's Court premises the whole of today.
"We have now heard reports that Jeyakumari and Vidushika may be detained by an Order of the Secretary, Ministry of Defence under the draconian Prevention of Terrorism Act, thereby circumventing the legal requirement that they be produced before a Magistrate within twentyfour hours of arrest.
"The TNA is shocked and appalled at the conduct of the authorities in this regard.
"The highhanded conduct of the government, even while its human rights record is under scrutiny at the current sessions of the Human Rights Council, is illustrative of the government's disdainful conduct towards the Human Rights Council.
The TNA stated that "the Sri Lankan Police claims that gunshots were heard in the vicinity of their home and that a policeman was injured. They also claim that the alleged attackers appeared to have taken shelter in Jeyakumari's house." – TWL Bureau