Agra district magistrate takes on corruption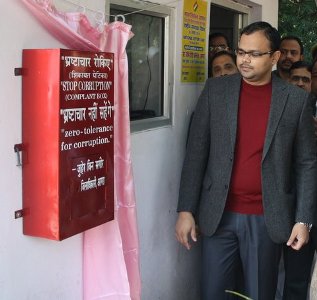 The district magistrate here has invited victims of corruption to pen their grievances and drop these in a complaint box at his camp office.
District Magistrate Zuher Bin Sagir told mediapersons that he would himself monitor the complaints and make sure action follows.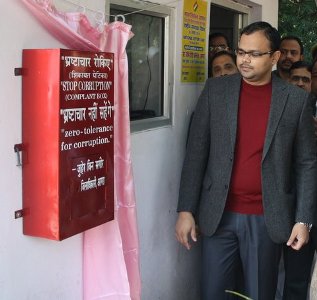 Agra District Magistrate Zuher Bin Sagir with the box he has installed for receiving complaints against graft (Photo: IANS)
Activists say it is on lines of the crusade being run by Aam Aadmi Party (AAP) in Delhi.
The red-painted wooden box was formally put in place by the official Monday evening.
However, it has attracted only curious onlookers so far.
"Many don't seem to believe it could lead to any effective campaign against the corrupt officialdom," said activist Naresh Paras.
Clearly, it is the ripple effect of the anti-corruption stand being taken by the Aam Aadmi party in Delhi.
"It would be difficult for the political leadership in the state to ignore the trend," says Shishir Bhagat of Wake Up Agra. - IANS