Film transports audience to Gandhi era, brings tears to some
A long lost film on Mahatma Gandhi made in 1940 which was found at the Gandhi Museum in Madurai in 2007 following sustained efforts was screened at a meeting of The Weekend Leader's Friends of Positive Journalism (FPJ) in Chennai recently.

A Annamalai, Director of National Gandhi Museum, New Delhi, the man who located the film, said the film's producer, A K Chettiar, had travelled about 100,000 km over a period of 3 years and collected 50,000 feet footage from different sources before making the film.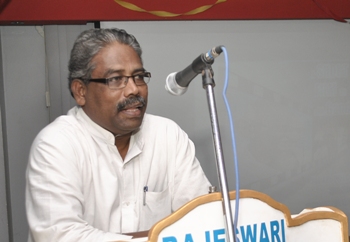 Annamalai located the film in 2007 and digitized it (Photos: Media Ramu)
"The film has to be viewed from that perspective. There was no hi-tech equipment available in those days. Chettiar's was the first full-length documentary on Gandhi," he told the audience, many of them students of multimedia and animation.

For an entire hour, the audience watched in hushed silence as the screen came alive with black and white images of Gandhi and other great Indian leaders like Jawaharlal Nehru, and Sardar Vallabhbhai Patel.

Footages of lathi charges against non-violent protesters, Gandhi's foreign visits, and his field trips to villages across the country transported the audience to the pre-independence era and by the time the film ended some in the audience were in tears.

The man who fought for India's independence sacrificing a lucrative career – in Annamalai's estimate, Gandhi must have been a billionaire had he continued to practice law – fell to the bullets of Godse.

"I could hear sobs from my wife sitting next to me and I was fighting back my tears," observed FPJ Chairman P Saravanaraja on the film's emotional climax.

Appreciating the film, he said though he was heading an animation institution where students were being taught the latest visual technology, watching the film was a humbling experience, as it depicted the inspiring life of Gandhi.
FPJ Chairman P Saravanaraja with Annamalai and other friends
"The film takes away any pride or ego you might have regarding your accomplishments," he said.
"When Chettiar arrived at Chennai central railway station in 1947, a porter who carried the luggage containing the reels, refused to accept money from him after he came to know that the box had Gandhi's film in it," said Annamalai, who was accompanied by his wife, Dr. M Prema, and K Mohan, Chairman of Gandhi Study Centre, Chennai.

Annamalai was director of Gandhi Study Centre in Chennai from 1994 till November 2013 before becoming the Director of National Gandhi Museum.

Annamalai introduced a special guest he had brought with him, S Pandian, formerly secretary, Gandhi Museum, Madurai, who had happily handed over the film's reels to him in 2007.

Later, Annamalai studied basic tools of movie editing and edited the three-hour long film, gave a Tamil voiceover to it, and digitized the film. The film is now being screened at various schools and colleges.

The screening of the film was followed by an interactive session with the audience. P C Vinoj Kumar, Editor, The Weekend Leader, anchored the session. Annamalai answered on wide-ranging subjects including Gandhi's relevance in the modern world. – TWL Bureau