Driving home the relevance of Gandhi in the modern world is Annamalai forte

29-November-2013
Vol 4&nbsp|&nbspIssue 48
When the Dalit television crew members of Chennai Doordarshan shared the commonly held view that Mahatma Gandhi had not done enough for Dalit emancipation, Gandhian scholar A Annamalai decided to tell them about the man he admired most and had done extensive research on.
Annamalai, 53, who took over as Director of National Gandhi Museum, New Delhi, recently, was travelling with the crew in 2006 to make a documentary on freedom fighter and Congress leader, C Rajagopalchari.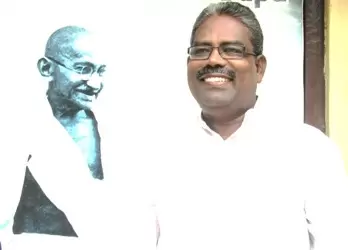 Annamalai's admiration for Gandhi made him give up his Phd and start propagating his ideals
For an entire week, as they travelled from one town to another in Tamil Nadu, the Gandhian regaled the crew with tales of Gandhi and the principles for which he stood for.
"They said it was not practical to live like Gandhi, because nobody would respect a truthful man these days. I asked them, what kind of friends they would like to have around, the honest ones or the dishonest ones?
"All of us appreciate truthfulness in people we associate with, be it our spouse, children, or friends. An honest man will command respect in society," Annamalai argues, insisting on the relevance of Gandhian ideals today.
The crew members began to appreciate Gandhi better by the time they returned to Chennai and asked Annamalai if he would be willing to do a program on Gandhi in Doordarshan.
Annamalai said he would gladly do it if he was asked. A week later, he got a call from Doordarshan requesting him to do a talk show on Gandhi.
He got a 10-minute slot to speak on the subject daily. "The show became popular and we did around 400 episodes, from 2006-2009," says Annamalai, who was director of Gandhi Study Centre in Chennai at that time.
Annamalai began to admire Gandhi as he was doing his post graduation in Peace Making and later his M.Phil in Gandhian Thought at the Department of Gandhian Studies in Madurai Kamaraj University.

He was part of a cultural group, which propagated Gandhian ideals through skits and therukoothu (or street theatre).

He later started working on his doctoral thesis on Gandhian Thought but quit the program after three years, as he realized that to propagate Gandhi's ideals one does not need a Phd.

He joined the Gandhi Study Centre in Chennai as a volunteer in 1987. The centre's founder T D Tirumalai became his mentor.

"I quit my Phd in 1989. I felt getting a doctoral degree was not going to be of any use for the kind of work I intended doing," he says.

He became fully involved with the activities of the centre and started to look for ways to take Gandhi's message to the masses.

He undertook cycle yatras to connect with the people. In 1989, he covered about 600 km on his bicycle from Madurai to Chennai and two years later cycled 500 km to propagate Gandhi.

In 1994 he became director of Gandhi Study Centre.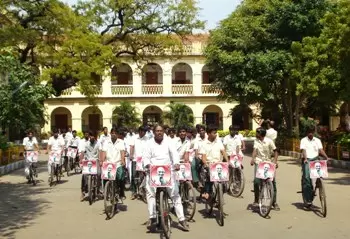 Annamalai's cycle yatras took him to many places in Tamil Nadu for spreading Gandhi's message of peace
But the most defining moment for him came in 2007 when he was able to locate AK Chettiar's documentary, 'Mahatma Gandhi – 20th century Prophet,' made in 1940 at Gandhi Museum in Madurai.

Chettiar had done painstaking work for the film and had collected over 50,000 feet of footage on Gandhi in three years before he released the two and a half hour film in 1940.

An updated and edited version of the acclaimed film was released in Hollywood after Gandhi's death in 1953.

But the film disappeared from the public eye, as the projectors used to show 16 mm films were slowly replaced with modern projectors.

Annamalai launched a hunt for the film's print and located it in Madurai. He edited the film to 60 minutes, gave a voiceover in Tamil, and recorded it in DVD format.

"We didn't have funds to hire professionals, so we did all the work ourselves," he says. Hundreds of copies of the DVD have been distributed across India and the movie has been screened over 250 times in Tamil Nadu alone.

Annamalai was also instrumental in bringing out a 100 page book titled 'Mahatma Gandhi – His Life with Pictures,' which was published in 2004 with two bilingual editions of Tamil-English, and Hindi-English.

Impressed by the fact that Gandhi visited Tamil Nadu 20 times, starting with his first visit in 1896, Annamalai retraced Gandhi's footsteps in the State along with five others in 2008.

"We spent 16 days in the field and visited about 300 places. We have posted details of the trip on our website," he says.

As director of National Gandhi Museum in New Delhi, he has plans to hold more exhibitions on Gandhi, digitize old films on the leader, and screen it to inspire the younger generation.

Trending Now: