Shun populism, get down to business, IPS officer tells Kejriwal
Amid soaring public expectations following AAP Chief Arvind Kejriwal becoming the Chief Minister of Delhi, an IPS officer, a self-confessed critic of Kejriwal, has appealed to the activist–turned –politician to avoid symbolisms and get down to the real business of governance.
"Symbolisms soon lose their novelty, like a newly-wed bride," states Amitabh Thakur, an IPS officer of the Uttar Pradesh cadre in a letter he has written to Kejriwal, an English version of which he has sent to The Weekend Leader.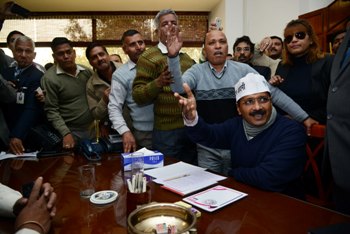 Arvind Kejriwal has triggered great expectations from the public. Will he deliver the goods? (Photo: Indian Photo Agency)
Reproduced below are extracts from the letter (edited partly).
Respected Sri Arvind Kejriwal,
Social activist, Thinker and Social philosopher,
Presently Chief Minister of Delhi,
New Delhi
Dear Sir,
Before making my submissions, I would like to introduce myself briefly. I am Amitabh Thakur. I am an IPS officer by profession though hugely affected by the bug of social concern despite remaining restricted to thinking and day-dreaming so far.
The first is that I consider myself an intelligent person and every other event or person does not attract my attention. Hence, if I have been criticizing you for the last three years or so, this in itself is sufficient to state that you are very special in my thoughts and imagination.
My criticism would definitely have a fair share of personal envy, some stretched form of sibling rivalry, being from IIT from the same batch and department, other than being a fellow civil servant, with intense urge to connect with social causes but unable to look beyond his service so far, while you have transformed into a Superhero.
I don't apologize for this because being jealous is being natural and one shall not feel bad about what is natural. But other than these personal causes, there are other reasons as well which have made me criticize your acts and thoughts.
Today you are successful and unlike Amitabh Bachchan of Deewar who had everything with him but not his "Maa" (mother), you have power, position, and respect all at the same time.
You also say you are full of ideas and your basic propositions are placed in your book 'Swaraj'. With apologies, I would like to say that despite my best efforts, I find a definite shallowness and triviality in your present thoughts related with many aspects of governance and polity.
You might find my words unprovoked and improper, yet the fact remains that in all your efforts there is an apparent and unwarranted quickness and leaning towards simplistic solutions.
You brought the concept of Jan Lokpal and declared on the basis of a few legal provisions that this book is going to be the Bible of anti-corruption work in the Nation. You had called Jan Lokpal a 'magic wand' then, the same magic wand which you recently declared not being in your possession.
You never thought for once how one piece of legislature can end all the corruption in this country? You not only presented a simplistic cure-all for this extremely complex disease, you also succeeded in making others believe in it through your superior skills and managerial capabilities.
Then you came with your "Swaraj" which contains solutions to all problems. Do this, this will happen, do that, such a thing will happen and so on. In short, solution to every problem. You are an engineer, a manager as well.
Hence you naturally presume that if there is a problem, there is bound to be a solution and in the Einsteinian vein you also presume that this solution is bound to be simple in nature.
I would humbly request that this seems to be a cardinal error which needs to be deeply relooked into and corrected. Kindly understand that social science and human lives do not have such ideal and simple solutions. There are complexities, there are intricacies, and there are multi-layering.
Till now you had only been raising hopes, playing with people's future and have been able to do it with rare success. Now you are no more in the dreamland, you will have to interact with people on the hard realities of life.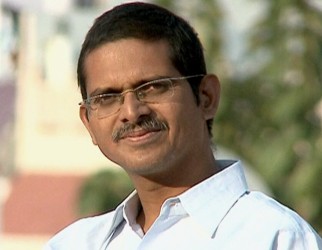 Amitabh Thakur
Activist Arvind will have to give way to Executive Arvind. And Executive Arvind will have to understand that instead of thinking himself as a 'know-all', it would be better if he considers himself a learner, a keen student - for the betterment of the nation and the society and for himself.
I will not be able to tell anything more on this topic because I am myself in the process of learning and understanding.
I only know one thing - that I don't know much and also that a knowledgeable person like you also needs to understand the same, so as to try and learn things with an open mind, so that better solutions are obtained and the aims with which you began your journey get fulfilled.
The third request is to avoid too much symbolism- journey through Metro, moving without security cover, moving as commoners, living in ordinary flats, going for a grand oath ceremony in exact contradiction etc.
You have decided to serve this society through political gateway and hence you need to accept some of the established and well-accepted norms with your focus fixed primarily to the real goals and not to symbolic attentions. These symbolisms soon lose their novelty, like a newly-wed bride and what remains is the regular grind of solid work.
I stop here because presently I don't have anything more to say. You are yourself an extremely capable man, much intelligent than me and if these words are not useful to you or all already in your knowledge, kindly throw it to the nearest dustbin.
These are my personal thoughts in my individual capacity to a person who calls himself dedicated to the creation of a new society and if even a small bit of my words proves useful to you in any manner; my tap-tap on the Laptop would have served its purpose.
Yours.
(Amitabh Thakur)
- TWL Bureau