A confluence of good-hearted people in Chennai
Representatives from around 700 NGOs gathered in Chennai at Sri Ramakrishna Math on Sunday for an annual event titled 'Ennangalin Sangamam' (Confluence of Minds) organized by the city based NDSO (Networking and Development Centre of Service Organizations).
From the first meet in 2005 with nearly 100 organizations, Ennangalin Sangamam has come a long way.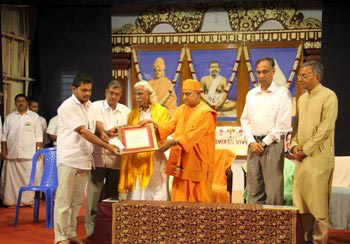 Kaja Mohaideen, founder of 'Life in a Rupee' from Coimbatore, receiving the 'NDSO Award'
J Prabhakar, one of the founders of NDSO, was instrumental in bringing together all these NGOs under a single umbrella, said a press release from NDSO.
He had travelled long distances to remote corners of Tamil Nadu and other states to identify genuine service oriented individuals and organizations.
At the function, Swami Gowthamananda Maharaj of Ramakrishna Math released 'Be Inspired', a handbook containing inspirational stories of 27 service oriented individuals.
Kiran Sasidharan, author of the handbook said the book would serve as a practical guide and idea bank to inspire novice youngsters to take up social work.
Kaja Mohaideen, founder of 'Life in a Rupee' from Coimbatore, was presented with the 'NDSO Award' and a cash prize of Rs.25000 for his outstanding achievement in the field of Social Work. Sathish Adigalar was also honoured by Thiruvaduthurai Aadeenam for his continued service of feeding the poor for past several decades.
Speakers extolled the selfless service of the social workers. "God is the first NGO who travels before you to guide you; so don't get perturbed by the hindrances you might face in your chosen path to serve humanity," said Alagar Ramanujum, co-founder of NDSO.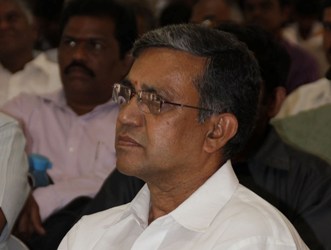 Prabhakar, co-founder of NDSO
"Service should not be fund oriented nor project oriented nor study oriented; but people oriented. That is the underlying principle of all the charity activities done by Sri Ramakrishna Math and the reason for its glorious existence for the past 120 years. All NGOs should imbibe this thought of people orientation in all their activities," said Swami Vimurthananda of Sri Ramakrishna Math.
N Harihara Subramanian, co-founder of NDSO added that our body is the ultimate gift of the Almighty and we should use it wisely to serve the needy.
Swami Gowthamananda Maharaj said, "We should lead a life governed by the five doctrines of Truth, Holiness, Selflessness, Faith in God and Sincere prayer."
Grouped into 5 categories of Education, Health, Homes, Environment and Social Awareness, the NGOs brainstormed on ways to work collectively and planned future course of action.
All invitees were presented with an award by NDSO.
"The event was a big success. Participants made their own travel arrangements and came from all over the state. We hope to continue our good work," said Prabhakar. – TWL Bureau