Be a humming bird and do your best for society
A forest is on fire. All the animals flee the forest, except a tiny little humming bird that keeps making trips to a nearby stream to bring drops of water to put out the fire.

It appears to be a losing battle, but the little bird is in no mood to give up. Bigger animals watch passively, and some of them even try to discourage the humming bird from its mission.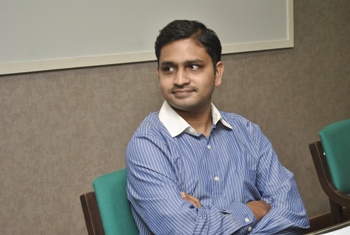 Kartheeban spoke about his volunteering journey and the work done by his NGO, Team Everest (Photos: Media Ramu)
But the bird persists, saying, "I am doing the best I can."

'I will be a humming bird' is a 2-minute animation film with voiceover by Nobel Peace Prize winner and African environmentalist Wangari Maathai, who urges everyone to do their best to save the planet without feeling that their efforts would be insignificant.

The film was shown as part of Team Everest founder Kartheeban Chandramohan's lecture to students of VIT Business School, Chennai, earlier this month.

"Remember the story of the humming bird. Each of us needs to do our bit for society. You could volunteer with an NGO or do some community service on your own," said Kartheeban, recently chosen by The Weekend Leader as one of the unsung heroes of Tamil Nadu.

Kartheeban spoke about his volunteering journey that started from the time he was in college and picked up momentum after he got a job in an IT Company in Chennai.

His NGO, Team Everest, is working among underprivileged children and has over 7000 registered volunteers, many of them from the IT sector.

Kartheeban shared some interesting experiences from the field. He spoke about Divya from Thirukalukundram village near Chennai. She had lost both her parents while she was young and was brought up by her grandfather.

She was good in her studies. When she in class ten the school management told her that they would sponsor her higher secondary education if she got a centum in any one subject in the board exam.

Divya scored centum in three subjects and got her reward. In class twelve she got 1100 marks out of 1200.

Team Everest helped her to pursue her engineering degree and paid her first year fees for the course. They also arranged a bank loan to meet her expenses for the remaining years.

"Divya has completed her degree and recently joined TCS as a software engineer," said Kartheeban.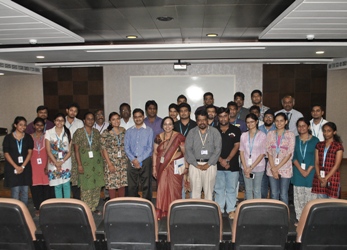 A section of the students with Kartheeban, faculty members and other guests
He narrated the story of Karthik, a school topper, who used to sell samosas at the Bodinayakanur bus stand in south Tamil Nadu after school hours and study under the street lights.

Team Everest sponsored his higher education. Karthik has finished his automobile engineering and is now working at a car factory in Sriperembedur.

VIT Business School students interacted with Kartheeban and apprised him about their volunteering at a nearby government school. VIT is sponsoring the salaries of couple of teachers in the school.

Kalyani Rangarajan, Director, VIT Business School, introduced Kartheeban to the students and appreciated his service to the community.

The Weekend Leader's Director, Outreach, U Karunanithi presented a memento to the guest speaker.

M J Xavier, Executive Director, VIT Business School, urged the students to be like the humming bird and do their best for the community, and not pay attention to the 'elephants' – the passive population - in society. – TWL Bureau