MBAs should focus on the rural market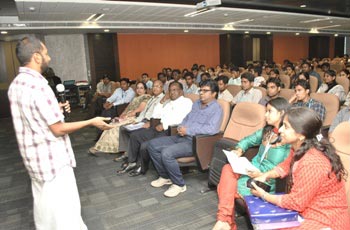 MBA graduates should focus on the growing rural market in the country instead of just aspiring for jobs in MNCs, said Senthil Kumar Gopalan, founder of the NGO Payir, Friday, delivering a lecture at VIT University, Chennai, on the topic 'Scope for Social Entrepreneurship in Rural India.'

Addressing students of VIT Business School, Senthil said the changing situation in rural India, with the rising purchasing power of villagers, was simply a business opportunity that they cannot afford to miss.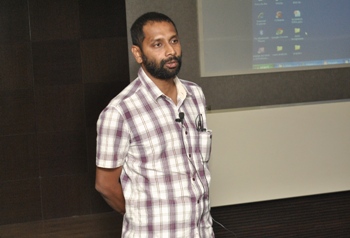 Senthil Kumar encouraged the students to explore the rural market (Photos: Media Ramu)
"It is a huge market out there. You need to think of ways to tap this market," said the 40-year-old social activist, chosen recently as one of The Weekend Leader's Unsung Heroes of Tamil Nadu.

Senthil, who started Payir after quitting a high paying job in the US, has set up few social enterprises at Thenur in Perambalur district.

They run a computer centre, where they do software development, and a bag making unit. These enterprises have provided employment to locals and bring in some income for the organization.

Giving examples of things they could do, Senthil told the students that families in villages change the thatched roof (made of coconut leaves) of their dwellings every two years or so.

"If you can find an alternative material that is even five times more expensive but could last for at least ten years, then you have a huge market for it," Senthil said.

He also said there were talented artisans in villages making intricately designed ornaments out of locally available raw materials like even coconut shells.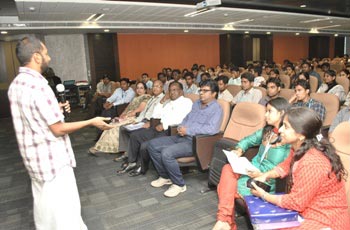 An interactive session with students followed the lecture
"They price these products very cheaply. Is there an opportunity for you here?" he wondered, hinting at the business potential in villages.

During the interactive session that followed his nearly hour long lecture, students expressed interest in starting businesses in tier two cities and villages. Some even wished to spend time with the Payir staff to have firsthand experience of working in villages.

Dr. Kalyani Rangarajan, Dean, VIT Business School, P C Vinoj Kumar, Editor, The Weekend Leader, and U Karunanithi, Director, Outreach, The Weekend Leader, also addressed the students.

Professor K T Rangamani proposed the vote of thanks. – TWL Bureau