Speakers at FPJ Meet hail TWL's positive journalism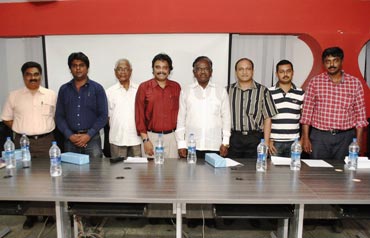 The Chairman and Members of Committee of The Weekend Leader's 'Friends of Positive Journalism' forum, were administered the oath of office at a function held in Chennai on Saturday.
Also Read: Friends join forces to take The Weekend Leader to wider audience

The Weekend Leader's Consulting Editor, Sam Rajappa, administered the oath to the office bearers and explained the significance of this website's positive journalism.
Bonding for a Cause: From L to R – Siva. Ilangovan, P C Vinoj Kumar, Sam Rajappa, P Saravanaraja, U Karunanithi, C Rajasekar, Dinesh Chidambaram, Rajkumar Shanmugham (Photos: Media Ramu)
Rajappa said in India newspapers depended heavily on advertisements, especially from the government, to meet their operating costs.

He said this situation restrained the media from functioning effectively.

"Just the paper on which your newspaper is printed costs about Rs.20. But the paper is sold at a subsidized price because the cost has been paid by the advertisers, mainly the government and its agencies, and the corporate world," he said.

Lamenting how the media has failed to document the success stories of independent India, he lauded The Weekend Leader for filling in the gap.

He appreciated The Weekend Leader for also taking up social causes. He cited the example of this website's campaign for justice for the Sri Lankan Tamils, and the Tamil Nadu fishermen, who are being regularly attacked by the Sri Lankan navy.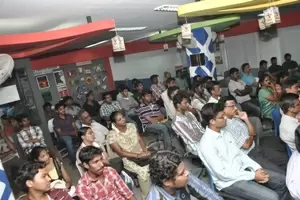 A section of the audience
"Over 800 fishermen have been killed by the Lankan navy. The media which has been silent on this issue however took up the killings of two Kerala fishermen by the Italian marines in a big way," Rajappa said, underlining the media's discriminatory attitude towards the Tamil Nadu fishermen.

In a passionate speech, P Saravanaraja, who assumed office as the first chairman of the 'Friends of Positive Journalism' (FPJ) forum, said The Weekend Leader had chosen the right medium to launch itself.

"Print media is struggling, as is evident from the problems that Reader's Digest and Newsweek are facing. Newsweek has even stopped its print edition," he said.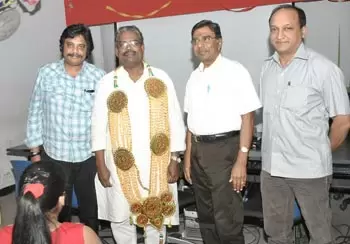 Saravanaraja (left) taking oath as Chairman, FPJ
Praising The Weekend Leader for bringing out positive stories, he said the website needed the support of likeminded people for its sustenance and growth.

The Weekend Leader's Editor, P C Vinoj Kumar, shared with the audience some of the programs the FPJ forum was planning to hold in the future.

Earlier, U Karunanithi, Director, Outreach, The Weekend Leader, welcomed the audience, who attended the function held at Arena Animation, Anna Nagar.

C Rajasekar, Dinesh Chidambaram, Rajkumar Shanmugham and Siva. Ilangovan took oath as members of the FPJ committee, 2013-14. (Madhan A Sendhil, who was unable to attend the function, will be administered the oath later.)

Rajkumar proposed the vote of thanks. – TWL Bureau