To eat or not to eat meat is a personal choice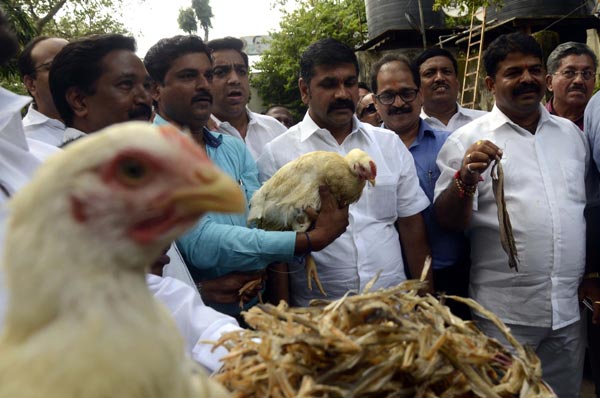 The BJP government is losing all sense of balance in governance. "Modi ko matdan, gai ko jeevadan" (Vote for Modi, give life to the cow) was one of the BJP slogans during last year's general election. Devendra Fadnavis, who benefited from the slogan and became Chief Minister of Maharashtra, made a new law under which any one selling or possessing beef can be jailed for five years and fined Rs. 10,000.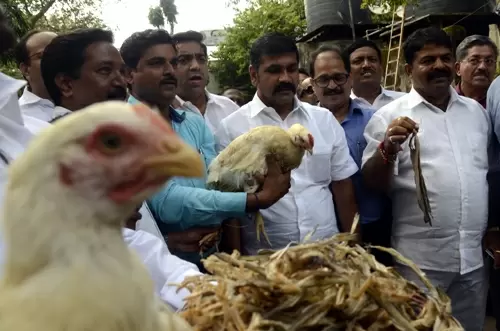 A protest in Mumbai against the meat ban for four days during Paryushan (Photo: IANS)

Cow slaughter had already been banned in the State under the Maharashtra Animal Preservation Act, 1976. The BJP-Shiv Sena government in 1995 passed a Bill amending the Animal Preservation Act to prohibit slaughter of bulls and bullocks which was previously allowed on the basis of a "Fit for slaughter" certificate. Finding it was detrimental to farmers, the then President of India withheld assent.
Fadnavis dusted the two decades old Bill and got Pranab Mukherjee to sign on the dotted line and made it a law in March. The law has severely affected the livelihood of butchers, majority of them Muslims, and deprived poor sections, especially Dalits, of cheap source of proteins. It also saw a spurt in suicides by farmers smarting under deficient monsoon and cannot sell their ageing cows and bullocks which they can ill afford to feed.
Old and infirm cattle ready for slaughter fetches about Rs. 25,000 per head. It is like rubbing salt on the wounds of our struggling farmers, who will not be able to afford fodder and water for useless cattle.
Meanwhile, the Mumbai Municipal Corporation and the neighbouring Mira-Bhayander Municipal Corporation wanted to ban meat and chicken during Paryushan, observed by Jains, overruling protests by Shiv Sena, BJP's ally in the civic bodies.
The BJP ruled States of Madhya Pradesh, Rajasthan, Chhattisgarh, Gujarat and Haryana followed suit. In Jammu and Kashmir where the BJP shares power with the PDP, the High Court gave new life to a 1932 law banning cow slaughter introduced by Maharaja Hari Singh but observed more in the breach by directing the government to enforce it strictly.
In a secular democracy, the dietary choices of all citizens should be respected and not left to the State to dictate. The BJP government is using the issue of banning meat of certain animals as a divisive tool to drive a wedge between religious communities without taking into consideration the economic and social cost.
Fish is exempted from the ban because the BJP does not want to disturb the fisher vote bank. When ban on cow slaughter came into effect in 1976, beef eaters in Maharashtra switched to buffalo meat.
Until the MAP (Amendment) law came into effect in March, the Deonar Abattoir in Bombay was slaughtering 400 to 500 bullocks and buffaloes a day, paying a fee of Rs. 20 per animal to the government.
India is the second largest exporter of beef in the world and Maharashtra is one of the three main beef producing States in the country. Banning slaughter of buffaloes and bullocks has led to a steep rise in price of mutton. Where is Narendra Modi's minimum government?