Land Grab In the Name of Solar Power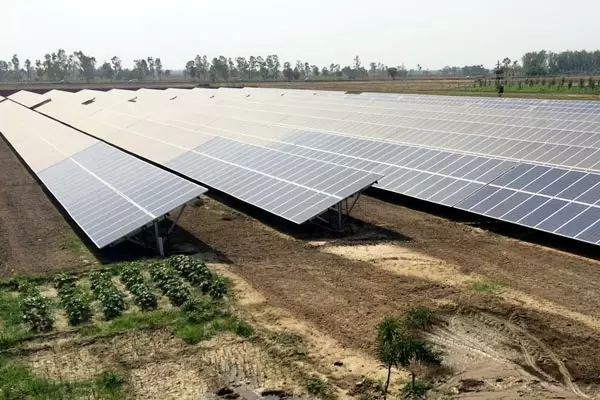 The large magnitude of solar energy available makes it an important source of clean electricity which is not only renewable but also helps in reducing carbon emission. Therefore the clearance given by the Tamil Nadu government to the Gujarat-based Adani Group to set up one of the world's largest solar park in Ramanathapuram district is to be welcomed.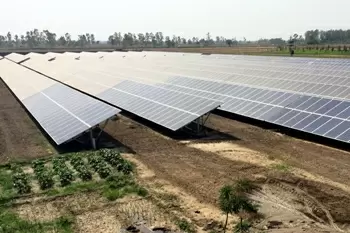 The union government has set a target of adding 100,000 MW of solar power by 2022 (Photo: IANS)
The Tamil Nadu Generation and Distribution Corporation has signed an agreement with Adani Green Energy (TN) Limited for the purchase of the entire power to be produced in their five solar power generation centres.

The company has sought 4,000 acres of land for the project with a capacity to produce 648 MW soar power and has started acquiring land in earnest in Kamudhi taluk. Revenue officials say that they have no role to play in the acquisition of land. K Nandhakumar, district collector, said no government land was being diverted for the project.

However, questions are being raised whether such vast tracts of land is required for a 648 MW solar power project. It comes in the wake of the Modi government's attempt to break the impasse in the Joint Parliamentary Committee over the Land Acquisition Bill.
The UPA government's Land Acquisition Act required 80 per cent land owners must give their consent to acquisition for private projects. The Modi government's Bill exempts five kinds of projects, including rural infrastructure, from consent of the land owners. But it is yet to become law.

Of the union government's target of adding 100,000 MW of solar power by 2022, 60 per cent is planned from land based SPV (Solar Photovoltaic) systems. According to the Adani project in Tamil Nadu, land required per MW of solar power is about five acres, which means 300,000 acres of land will have to be diverted to achieve the target.

Moreover, such large-scale projects may require new transmission lines which will need additional lands. Persisting with land based SPV systems in its present form is tantamount to facilitating land grab by big industrial houses.

Instead, if much of the proposed 100,000 MW can be based on rooftop SPVs, such land diversion and new transmission lines can be avoided. The potential for rooftop SPV system in the country is unlimited and is cost effective.

For land based SPV systems, the government should draft a policy that would make owners of the land as stakeholders, who would get assured returns, by way of monthly or annual rent or through any other attractive scheme.