'India is the Saudi Arabia of renewable energy sources'
18-January-2012
Vol 3&nbsp|&nbspIssue 2
India can be a great power, ushering in a game changing third industrial revolution by utilising its renewable energy resources and collaborating with power producers and suppliers, says American economist and author Jeremy Rifkin.
"With the second industrial revolution, which was ushered in through internal combustion engine and heavy use of crude oil, being on life support, this is the right time for India to use its renewable natural resources to start the third industrial revolution," said Rifkin, president of Washington-based Foundation on Economic Trends.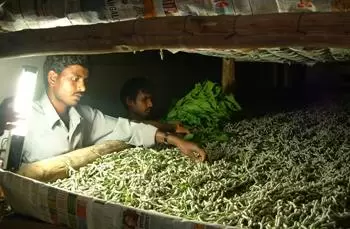 A farmer rearing silk worms using a solar lamp (Photo courtesy: SELCO)
Rifkin was in New Delhi for the release of a report, Mega Trends of the Emerging Third Industrial Revolution in India, prepared in collaboration with FICCI Young Leaders (FYL).
"India is the Saudi Arabia of renewable energy sources and if properly utilised, India can realise its place in the world as a great power," said Rifkin.
"But political will is required for the eventual shift from fossil fuels to renewable energy."
According to Rifkin, the country can leapfrog into the third industrial revolution by creating infrastructure that allows individual buildings, houses and villages to generate energy by utilising renewable sources like solar, wind and geothermal energy.
"Imagine houses in villages producing energy through solar power and then selling the same energy through internet or distribution companies, this will give level-playing field to the rural areas in terms of industrialisation."
"It will take about 20 years for a juvenile infrastructure for third industrial revolution and another 20 years for a mature infrastructure," he said.
The report, which identifies India's transit to a post-carbon economic era, claims that if 20 percent of all energy needs be sourced from renewable sources, it would create jobs and industries that in the long term will lower the cost of generating energy through these methods.
"It's just like the case of personnel computers. Earlier they were very expensive but with mass production and usage the cost of one (personnel computers) has come down," said Rifkin, who has advised the European Union and German Chancellor Angela Merkel on this concept of Third Industrial Revolution.
Some of the mega trends mentioned in the report include less dependence on fossil fuels, new business models in sharing of energy, new and intelligent technologies, collaborative eduction for preparing a workforce of 21st century. - IANS

Wish to share your story?
Trending Now: