German determined to make hockey champions of children in a Rajasthani village
Renu Rakesh
&nbsp | &nbsp Jaipur
15-September-2011
Vol 2&nbsp|&nbspIssue 37
It's 5 pm and the girls have started gathering outside the dilapidated fort, a familiar landmark in Garh Himmat Singh, a sleepy Rajasthani village that lies 125 kilometres from the state capital of Jaipur.
Hockey practice will start in some minutes. Every evening, 15-20 girls and boys scramble to get hold of a hockey stick and start warming up before their daily match.
Budding talent: Thirty-six-year-old Andrea Thumshirn's Hockey Village India project has managed to bring the village girls of Garh Himmat Singh into the playground. (Photos: WFS)
The girls and boys play on alternate days, but even on the girls' day out, the boys hover around keen to get some time on the field after the girls are done with their session.
Sanika Khandelwal, 11, has barely learnt to dribble the ball properly, but when her coach, German Antje Weidemann, shouts 'shoot', she hits it past the goalkeeper, Sangram Singh. "It's a goal," Weidemann announces, even as a jubilant Sanika slaps the upraised palm of her proud coach.
There was a time when seeing young girls on the sports field would have been unthinkable in these parts. But things are changing in Garh Himmat Singh. And this change has come because of a unique project initiated by Andrea Thumshirn, 36, a first league hockey player from Germany.
Thumshirn, who has been playing since she was six, first came to India in 1998 and instantly "fell in love with the people." Subsequently there were many repeat journeys till she decided to set up a travel agency in Berlin that specialises in creating tailor-made trips to Southeast Asia.
It was on one of her trips that her Jaipur-based Indian partner, Dilip Singh Chauhan, took her to Garh Himmat Singh, where his family lives in a part of the garh (fort) - the rest is in ruins.
It's a village of over 4,000 people and most of them survive on farming. There are five schools - four government-run and one that is privately run. There is no doctor, water comes for a few hours only and electricity is through generators. In short, this is a village typical to these forgotten parts.
But something about Garh Himmat Singh struck a cord with Thumshirn. She recalls, "We took a walk in the small lanes and even visited some schools. I saw children sitting on the stone floor. The conditions were bad: Two teachers were responsible for four classes at the same time! English lessons were on the time table but since the teachers themselves couldn't speak the language, no one expected them to teach it to the kids. I saw a lot of English books lying around untouched in the principal's room. That's when I decided to help the children in some way."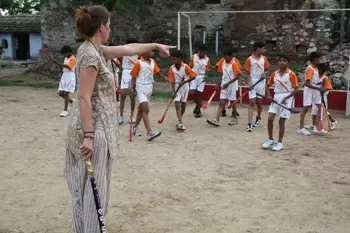 Future champs: Andrea Thumshirn's with Hockey Village India's Under 14 team
In July 2010, Thumshirn started the Hockey Village India project to train the local kids in hockey and give them English lessons.
Dilip's cousin, Chandu, whose family lives in the fort, remembers how when they had asked the villagers to send their daughters for hockey practice, there was no response.
"At first, we had only boys coming in for practice, but gradually people have understood our intentions and are now sending their daughters, too," says Chandu
Meanwhile, an Under-14 village team was formed. The average age for the boys was 10-11 years. Talking about the team composition and its prospects, Thumshirn says, "It's very important to start hockey at a very early age. In Germany, we start even earlier. But in India, only a few teams are really under-14, so it is hard to find tournaments for us to play at."
Nevertheless, the players were told to practice regularly for a special match in Jaipur. Those who didn't practice for two-three days at a stretch were asked to return their shoes.
That was how, on a bright day in August this year, 14 boys and seven girls took a train to Jaipur to play their first match - against the U14 team of Delhi Public School.
Thumshirn's team lost 6-0, but they had a victory of a different kind: They were richer in terms of experience and exposure.
Yogendra Singh Naruka, 13, captain of the village team, puts it this way, "Only months back, we had no idea about how hockey is played and here we were playing a match with experienced players from a prestigious school. We were completely outplayed on the field but I can't even tell you how valuable an experience like this was for all of us."
In Jaipur, the children met former Indian goalkeeper Baljit Singh Darwal, who joined them for lunch, while former national coach, Harendra Singh, came to Garh Himmat Singh a day earlier to play with the boys.
Thumshirn is already planning a hockey academy here to provide full education combined with hockey. Says she: "We simply want to give the kids a better life through sports and education." – Women's Feature Service

Trending Now: