An artist campaigns seeking justice for Bhopal gas victims
Shahnawaz Akhtar
&nbsp | &nbsp Bhopal
04-February-2012
Vol 3&nbsp|&nbspIssue 5
The year he was born saw the world's worst industrial disaster, the Bhopal gas leak. Some 27 years down the line, he is now trying to draw attention to the tragedy through his art.
Sayed Irshad Ali, from Udaipur district in Rajasthan, is in Bhopal these days to showcase his contemporary art work, including hoardings and posters, in various public places.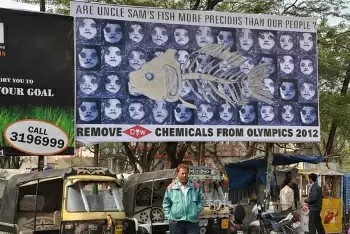 A hoarding installed in Bhopal by Irshad depicting Bhopal Gas Tragedy and death of fishes in US (Photo: IANS)
He compares two major industrial disasters -- the 1984 Bhopal tragedy and 2010's oil leak from British Petroleum's underwater drilling rig in the Gulf of Mexico off the US coast.
"I am raising two main points through my artwork. Firstly, I am comparing these two manmade tragedies. In the first case, human beings died, and in the other, fish.
"The families of 500,000 Bhopal gas victims, even after 27 years, are still waiting for justice, whereas the US made BP pay a compensation of $20 billion for dead fish and environmental damage in the Gulf of Mexico," says Ali.
"This artwork will raise questions such as how important are human lives in our country and do we really care enough?" he said.
The second issue he is highlighting is the "hypocrisy" of Dow Chemicals, which bought Union Carbide, and its "tainted" sponsorship of this year's London Olympics.
"Dow Chemicals inherited a criminal by buying Union Carbide in 2001, but at the same time it didn't take any liabilities of the Bhopal tragedy, like cleanup of the site. The people of Bhopal are still drinking contaminated water and thousands are routinely exposed to cancer and birth defects," he said.
He said the company which is responsible for the "destruction of both human lives and nature" should not be allowed to be associated with a prestigious event like the Olympics.
"I appeal to the Indian government and people to boycott the London Olympics till the Dow Chemicals sponsorship is not taken back by the Olympics committee," he said.
On the intervening night of Dec 2-3, 1984, tonnes of poisonous methyl isocyanate leaked from the then Union Carbide factory in Bhopal, killing over 3,000 people instantly and around 25,000 over the years. A total of 500,000 people have been affected by the tragedy.
This is Ali's sixth series of work focussing on social issues. His first work "Astitva", on Udaipur Lakes, and "Shoe Men's Property 1 & 2", on Iraq and Afghanistan, were well received.
"It is good that such young people and artists are coming forward for the Bhopal cause and presenting their point of view. It is in fact a kind of help and support to the fight for justice," says Abdul Jabbar, convenor of the Bhopal Gas Peedit Mahila Udhyog Sangathan. - IANS

Trending Now: