Young Indian authors find innovative ways to sell their books
13-October-2011
Vol 2&nbsp|&nbspIssue 40
The camaraderie is infectious. Their zest and spirit will put the top rugby team to shame. They back one another like there is no tomorrow. The world though labels them and their writing as irreverent.

Irreverent they are, but only about the fact that they are competing for the same space under the arc lights.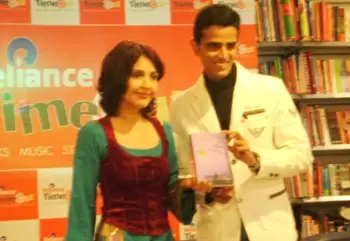 Mutual growth: Young authors like Faraaz Kazi (right) are helping each other to get their books noticed by readers
You guessed it. I am talking about India's brand new generation of pulp fiction writers - chick lit, lad lit et al.
The support these young writers lend to one another goes beyond 'likes' and 'comments' on Facebook. A young first-time author, Faraaz Kazi, launches another debutant novelist Sweta Srivastava Vikram's book in Mumbai while he himself turns to a more established Tuhin Sinha for his own novel.

Tuhin incidentally belongs to the bunch which really 'started the fire', along with Chetan Bhagat and Tushar Raheja.
Our young Faraaz then goes on to review another young novelist Aditi Talwar Sodhi's book on an online forum while yet again manages to get an established Anuja Chauhan to do the honours for him in Delhi. And the cycle continues.

Sujata Parashar, Amrita Suresh and Sonia Kundra Singh - names like many others that you may not have heard of in the literary circles but who are writing prolifically, and writing with a vengeance - to find not just their place in the sun but their identity too.
These young novelists share an interesting symbiotic relationship with book e-commerce sites like Flipkart, Landmarkonthenet and Infibeam. The sites attract eyeballs thanks to them and the authors don't have to lose their sleep over a Crossword or a Landmark effectively stocking and replenishing their books.

A chain store with effective inventory anyways sounds like an oxymoron in modern times. That calls for another extensive article though.
Now, compare it to how publishers in India collaborate (or don't). The only time you would see an inclusive and eclectic bunch of publishers together would be under the aegis of a foreign institution.

Reverse discrimination apparently is something we continuously hold close to our hearts. Most of the other times, you would see members of federations and associations playing musical chairs in their respective executive bodies, much like their more infamous Indian sports federation cousins.
These though are challenging and exciting times for the desi publishing industry. It needs the vigour of youth and their enthusiasm to think out of the box and steer it forward.

Remaindered books, poor and mismanaged supply chain, lack of fresh talent across fields like sales, promotion and editorial and many other issues need immediate redressal. It is imperative that we get together to face these challenges and make the best use of all the technological advancement before it is too late.
In the meantime, there is no harm in taking some team spirit lessons from our young author friends.
Shobit Arya is the Founder and Publisher of Wisdom Tree which has recently started a special imprint called Offshoots for young novelists. Some of the authors mentioned in the article are published by Wisdom Tree. - IANS


Trending Now: