Inspired by public libraries abroad, a Bengaluru woman makes reading an experience

Marianne de Nazareth
&nbsp | &nbsp Bangalore
18-March-2011
Vol 2&nbsp|&nbspIssue 11
More people would have become book worms if libraries had been as colourful as Hippocampus with the kind of friendly spaces that it offers to children. The new concept introduced by Bengaluru-based Vimala Malhotra has become very popular. "Hippocampus began as a library for kids," explains the founder, "but we have tried to make it much more than that. It is an experience centre where we try to make a child's first experience with books memorable and ignite their interest in reading forever."

Forty-eight-year old Vimala started the first Hippocampus in Koramangala in Bengaluru in 2003. Since Umesh, her husband, is in the IT field they did a lot of travel to the US. It was on those trips they were impressed with the wonderful public libraries there and wondered why cannot India have similar libraries? "That's how the idea was born and realising that knowledge is power, we decided to start one here. Initially it was just the large amount of books we bought for our son which we wanted to share, but slowly the idea grew into a full-fledged library," she says.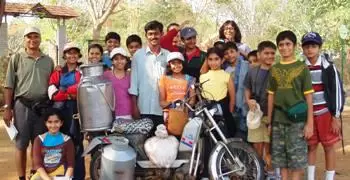 In nature's lap: Hippocampus believes in holistic development of a child. Vimala Malhotra with a bunch of kids at a nature camp in Kabini
Money is irrelevant when it comes to education, feels Vimala and so the members pay according to their capacities. There is no fixed library fee. "Hippocampus has grown organically from its inception. Books are not the overwhelming part of the library. We give the child opportunities and space, backed with a lot of fun stuff. On the weekends we do programmes as varied as white water rafting or even cooking. For single kids it's a great place to even just socialize."

Hippocampus has also begun a programme for underprivileged kids. "We work with children who attend government schools and don't know how to read fluently. We began the Hippocampus Reading Foundation in 2004 and offer customised reading programmes to schools. Named 'Grow by Reading' we divide up the library books on the basis of the colours green, red, orange, white, blue and yellow. We assess the child's capacities and then accordingly send the child to pick whatever colour label is suited to their aptitude."

They also help people set up libraries and have done one in Chennai and one in Basavanagudi, Bengaluru, for the Sringeri Mutt. "We stocked the books, and educated the staff from 2004. Now we have stepped and they are running it on their own," says Vimala.

Interestingly, they have an annual storytelling festival called 'Hoo's Tales' which is a one day extravaganza held in Bal Bhavan in Cubbon Park. Here 10-12 professional story tellers come and tell 15 minute tales in various ways, with Yakshagana or theatre - a veritable feast for the child. Currently they also have a successful project for rural India with a Math training programme in Halagur.


Trending Now: