India's oldest student is a centenarian

Pranjal Baruah
&nbsp | &nbsp Gauhati
04-November-2010
Vol 1&nbsp|&nbspIssue 10
He is retired, but not tired. At the age of 100, Bholaram Das is back to school, of course working for his Ph D degree, after a successful career that saw him donning the hats of a teacher, a lawyer and a judge.

Though physically weak, as evident from the walking stick, he is mentally strong. Spurred by a youthful spirit, Das has enrolled for his doctorate with the Gauhati University in Assam and has earned the distinction of being India's oldest university student. Das will be doing a research on the "Role & Contribution of Bohori village in Barpeta district in spreading the Neo-Vaishanvite way of life in the Northeastern part of India"

"I am not doing this to make any record, but to contribute my part to my native village of Bohori. I am a disciple of the great Sankardeva who spread the holy Vaishnavism in Assam and have seen how my family and friends followed him. I have chosen my subject on this man and his effect on my birth place," Das said.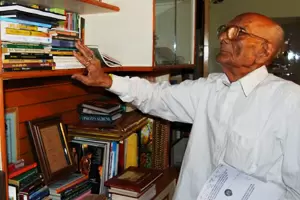 India's oldest student is an avid reader, and still loves to watch cricket matches on television
An inspiration for both young and old scholars, Das will look into the contribution of Bohori in lower Assam towards the spread of the egalitarian stream of Hinduism - a neo-Vaishnavite movement propagated by 16th century social and religious reformer Sri Sri Sankardeb -- across the state.

Das, who goes for a morning walk to keep himself fit, spends an hour in prayer, not for a long life but a content one. The former advocate and district judge keeps himself updated on the latest developments in politics and judiciary and actively participates in social forums on juvenile justice issues.

"In my 100 years, I have done many things in politics, governance, religion and society. So now I am planning to study the subject close to my heart -- neo-Vaishnavism's philosophies of one god and humanism," says Das.

The university's vice-chancellor O K Medhi says that he is thrilled. "Das can be an inspiration for the youth with his formidable spirit and dedication to public service. It is indeed rare to find a student who is 100 years old." However, he added, that it would be difficult for any professor of the university to address this centenarian as a student. "We don't know what to call him – sir or student," he smiled.

A strict follower of Mahatma Gandhi, Das took part in the freedom struggle and was jailed when he was 19 years old. He spent two months in jail prior to his commerce degree graduation. Then he studied law, worked as an advocate and later served as a district judge for almost 16 years. Though left alone after his wife's death in 1988, Das never lost his zest for life. However, the present turmoil in Assam saddens him.

Das still loves to watch cricket matches on television, besides being an avid reader. He has a daughter, five sons, 10 grandchildren and a great grandchild.

Trending Now: