When criminals dance to the tunes of a dancer-social worker

Rina Mukherji
&nbsp | &nbsp Kolkata
17-September-2010
Vol 1&nbsp|&nbspIssue 3
On International Women's Day 2007, dancer Alokananda Roy visited a jail for the first time. Invited as a guest by the Inspector General of Prisons, B D Sharma, to the Presidency Jail in Kolkata, the visit changed her perception about a prison itself. In fact, she was reminded of an ashram.

Sharma, who was in the process of ushering in reforms in the jail and touching the lives of prisoners, had invited Roy to the Women's Ward in the hope that she might be able to do something. After the conclusion of the programme, as Roy stepped out of the women's wing, she noticed a good number of young men walking around aimlessly. She learnt that they were convicts, some imprisoned for life. They looked lost and totally cut off from the world. "They had given up all hope of ever returning back to the life outside, and the hopelessness reflected on their faces," recalls Roy.

While the number of women in the jail numbered a mere 400, the number of men numbered around 2000. "I felt the urgent need to involve the men in whatever I planned to undertake for the wellbeing of the jailed," says Roy, who returned to the jail, and ended up with a programme that was much bigger than what Sharma had in mind. She decided to train the convicts in dance, and impart a brand new meaning to their lives.

Since dance was something the convicts identified with femininity, Roy decided to start off with training them in Kalaripayattu, the ancient Kerala martial arts form. This drew a good response. In six months, the convicts were ready to perform a dance drama, based on Tagore's composition, 'Valmiki Pratibha'.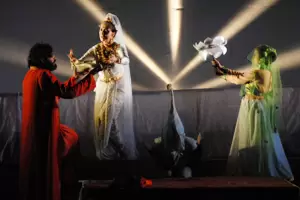 Prisoners of Art: a dance - drama performance by inmates of Presidency Jail
Since the composition tells the story of how Dasyu Ratnakar reformed to become a sage-maharishi Valmiki, who is revered to this day for having written the Ramayana, the convicts, in their heart of hearts, wholly identified with it. Nigel Akkara, alias Vicky, a young undergraduate from the prestigious St Xavier's College, Kolkata, who had strayed into crime and ended up murdering a man for failing to pay ransom, was a notable example. Born into a devout Christian family, Nigel had been an atheist all along, until training to play Valmiki got him to embrace spirituality.

The transformation was so complete, that it impressed documentary film-maker and lecturer in film studies Yudhajit Sarkar to make two films on the project. Like Nigel, some other convicts too put up an amazing show. Impressed by what she could achieve, Roy suggested a public concert. "For the first time, escorts were arranged and the convicts got an opportunity to step out of their high-walled prison to see the world."

Nigel was released in July 2009, after nine years in jail. However, he continues to play Valmiki as a guest artiste in Roy's production. So does another ex-convict, Manoj Rajak, who plays Pratham Dasyu, a comic character. Working with convicts also made Roy acutely aware of how strong the stigma against jailbirds happens to be in Indian society, and she went on to set up Touch World, a home for ex-women convicts and their children, in Narendrapur.

"The stigma is difficult to shake off, and spills over to their children. It is the reason I felt the need to educate the children in the English medium, so that they can ultimately stand up proud and declare to the world how their backgrounds have not hindered them in life," says Roy.

Of course, setting up Touch World has also helped her rehabilitate those whom she has known and understood through her dance project.

For instance, Nigel, in spite of being an accountancy graduate, was rejected at numerous interviews the moment he mentioned his nine years in jail. Keen on proving himself, Nigel took a loan from his mother and set up a housekeeping and pest-control services concern. Here, IG Sharma, and Alokananda Roy came forward to help him by standing surety.

Nigel has managed a contract to maintain the gardens and premises of the Regional Institute of Correctional Administration in Dumdum, as also the sprawling quarters of police personnel in Alipore. He already has 12 persons working under him and is keen on employing ex-convicts like him who are shunned by society.
Wish to share your story?
Trending Now: