Capturing a tennis star's journey that was strewn with pain and glory
23-July-2016
Vol 7&nbsp|&nbspIssue 30
Title: Ace against Odds: Author: Sania Mirza with Imran Mirza and Shivani Gupta: Publisher: Harper Collins, Price: Rs 499, Pages: 238
Eulogised, feted, doubted and criticised -- Sania Mirza's life is an example of how a girl with a dream reached her goal after scaling all odds.
The 29-year-old's battle on court -- and with fringe elements off it -- is the stuff legends are made of. Whether an innocuous picture of Sania putting her leg up after a match, a comment about pre-marital sex, the length of her skirt or even her marrying a Pakistani cricketer, she has been at the receiving end.
Taking on allegations over her irreverent behavior with the same strength of her killer forehand, Sania is an example of how an icon is trivialized into an object of public scrutiny.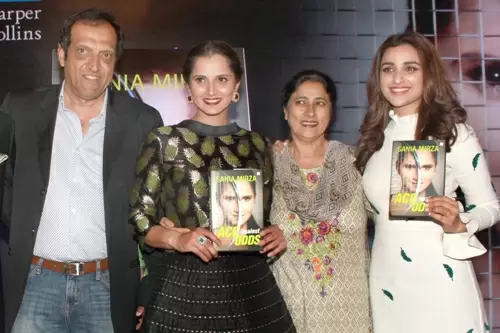 Sania Mirza and actress Parineeti Chopra at the launch of "Ace Against Odds" in New Delhi last week (Photo: Amlan Paliwal/IANS)

In "Ace Against Odds", Sania tells the readers of her bitter-sweet memories and the struggles she overcame to achieve her dreams.
Propelled into the big league at a very young age, Sania was aware about what she lacked and quickly learnt what she needed for sustaining herself on the tour. From becoming India's No.1 woman tennis player to being the World No.1 in the women's doubles with Swiss legend Martina Hingis, controversy has dogged her career.
Sania is candid in her admissions and open to speak her mind, a virtue that still makes her a youth icon in a cricket-crazy country. Ushering in a renewed interest in tennis among aficionados and fans, Sania was instrumental in bringing in the crowds to tennis matches.
Learning early in life that grit, determination and hard work bring laurels, she quickly understood that people were uncompromising when it came to criticising icons -- may be a trait typical to a society short on tolerance and high on moralistic turpitude.
Her journey from a junior player to a Grand Slam winner is one strewn with pain and glory. Nagging injuries and the toll that the circuit took on her body forced her to quit the singles format in 2012.
More than the injuries, it was the media circus that hurt her the most. Thrust into fame at a very young age, Sania dealt with the glitz, lights and star-struck fans with ease, but when things got personal, the media was unrelenting in invading her privacy and pummelling her with innuendos.
Her bitter-sweet relationship with media and the constant tours left her with just a handful of friends, a group that backed her through thick and thin. But what gave her emotional strength was the rock solid backing from her father Imran Mirza and the innumerable sacrifices by her mother Nasima.
The entry of Shoaib Malik into her life brought a refreshing change and, of course, the media, which painted her an anti-national for picking a Pakistani cricketer. She and her family were virtually under house arrest as the media invaded every bit of privacy the family had.
What followed next changed her life forever. This excerpt narrates this event:
"It would not be wrong to say that for almost two weeks the media went berserk. About two hundred newsmen armed with cameras and microphones, files and pens, camped outside our house and hounded every guest and family member as they entered or left. A dozen satellite vans were parked in the lane, beaming inconsequential footage of the house and the visitors. Cameras were fixed at all angles and were recording round the clock. Camera crews had bagged strategic positions on buildings around the house to gain a 360-degree perspective. If a curtain at a window moved even an inch, exposing one of my family members or me doing mundane chores in the house, some news channel thought it important to telecast the image to viewers with super-imaginative interpretations. It was totally bizarre and unexpected!
"On one of those days, amidst all the madness, my father got a frantic call from a relative who sounded hysterical. 'Is Sania wearing a green T-shirt?' he questioned. When my dad answered it in the affirmative, he almost screamed, 'Draw your curtains! There are cameras fixed on the next-door building that's under construction and news channels are showing her live right now!'
"I did not see sunlight for about ten days. All the windows, even the small vents in the bathrooms, had to be covered. Even the smallest of peepholes were being used by the media to beam images. Going out to the balcony for a breather was asking for trouble."
Thrust into the limelight, Mirza found benign support from another Indian tennis ace and mixed doubles partner, Mahesh Bhupathi. It was after consultations with him that Sania decided to skip a WTA tournament at Bengaluru.
What followed was a trial by the media on the reasons of her pull-out. It was during this period that WTA chief executive Larry Scott arranged a special conference with Ari Fleischer to give Sania tips to handle media. And it was during her interaction with Fleischer that she found out that he was the one who handled US President George Bush's poll campaign and later became the president's first press secretary.
But the important question remains, would a male Indian tennis star have to go through such incongruous acrimony? Should the media not draw an ethical line? - IANS

Wish to share your story?
Trending Now: