Making successful entrepreneurs out of rural women from all over the country
Tripti Nath
&nbsp | &nbsp Delhi
04-January-2016
Vol 7&nbsp|&nbspIssue 1
There is no reason why tribal and rural women in India have to live on the fringes and be one among the millions of faceless poor in the country. All they really need is an enabling environment and the right platform to live up to their true potential, prove their strength and showcase their many inherent talents.
Whether it is their inherent understanding of health foods, like organic produce and indigenous food grains, or their fine flair for creating master crafts, these women from the countryside have much to offer.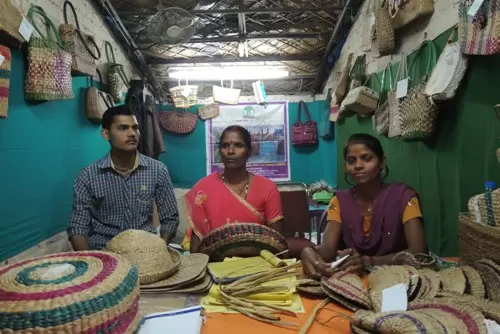 Saraswati Devi Morye, from Pilibhit in Uttar Pradesh, selling eco-friendly and trendy products made from water hyacinth (Photo: Tripti Nath\WFS)

Recently, tourists and shoppers in the Capital got an opportunity to pick up the choicest of organic foods – spices, fresh produce, oils, pickles, juices and even organic ice creams sans milk – as well as amazing array of handicraft, such as stoles and spreads with Sindhi embroidery, pottery and handmade soaps, at a special festival organised by the Union Ministry of Women and Child Development.
According to Maneka Gandhi, Minister of Women and Child Development, "Concerns regarding the nutritional status of women and children around the country was the guiding spirit of the festival, which got well over 30,000 visitors.
"With over 500 women artisans, weavers and farmers, from Leh to Kanyakumari and from Kohima to Kutch, in attendance to exhibit and sell their organic products/produce, this turned out to be the ideal platform to support and encourage women and women-led groups that promote organic farming and spread awareness on the benefits of "eating healthy, living healthy"."
Gandhi's own constituency, Pilibhit, a district in Uttar Pradesh, India's largest and most populous state, presented organic mosquito coils and a remarkable variety of eco-friendly water-hyacinth bags.
Saraswati Devi Morye, a middle-aged woman from Pilibhit, who was selling the trendy bags with the able assistance of Preeti Varma, 18, a school dropout, said that they had learnt to weave water hyacinth into products at a workshop in Guwahati, Assam, last year. "Attending that workshop helped us learn a new skill and improve our earnings," she shared, with a smile.
Elsewhere, an enthusiastic Vasundhara was minding a kiosk filled with exquisitely embroidered wares and toys. This industrious young woman from Rohtak has been able to mobilise women in the patriarchal heartland of Haryana to make bright stoles embellished with traditional Sindhi embroidery, toys fashioned from pieces of cloth and exquisite crochet tablecloth, among other handicraft, under the banner of Tejaswani Foundation.
"Everything on sale here has been made by women from Jhajjar and thereabouts. These women may be caught in the stranglehold of patriarchy but they are good at many things, handicrafts being one of them.
"I knew of some who were in dire need of representation so I started off by encouraging 10 of them to make handicrafts and pickles. We have bright 'dupattas' (stoles), toy peacocks and horses, knick-knacks made from beads and chilli pickle for people to buy," relayed an enthusiastic Vasundhara.
Driven by equally noble intentions was a small group of passionate entrepreneurs from Odisha, who are supporting Kondh and Juang tribal women in their endeavours to earn a decent living from forest produce by properly marketing their natural harvest.
They employ women from January to June to collect forest produce like neem (Azadirachta indica), tulsi (holy basil/Ocimum tenuiflorum) and arrowroot (a type of starchy root vegetable) and pay them as per the quantity and quality of the produce gathered. Thereafter, they use it to make neem oil, leaf powder and fertiliser, tulsi leaf powder, turmeric powder and arrowroot powder and retail it at shops and specialised fairs under the brand name Native Roots.
Set up by Rabindra Mishra, a corporate lawyer, his wife, Sharmila, and four like-minded friends, this micro-enterprise took off in early 2015. Apart from encouraging tribal women they have also been able to persuade eight potters from Koshala village in Chendipada block of Angul district to return to their traditional work.
"These men in the 30 to 50 age group were working as bonded labour in mines in Angul district and had given up pottery as it was not financially viable. We now employ them as and when we have orders to make biodegradable functional pottery," informed Mishra.
At a little distance, a small group of friendly Tibetans, who work for a unit of the Federation of Tibetan Cooperatives in India Limited that provides fair trade opportunities to workers, was selling cotton and jute bags and clothes made from raw silk. Finding the Tibetan products rather unusual, Ashwinder Kaur, a young manager with a five-star hotel in the city, stopped by to try the 'Chuba', the special outfit donned by elegant Tibetan women.
At the stall nearby, fellow shopper Shaheen Khan, a real-estate consultant, who thought that "the best food from India was being exported", was busy buying orange peel, honey and spices from Raboy Murmu, a Santhal tribesman. Murmu was selling products for "uthaun" (it means uplift in Santhali) made by Santhal women self help groups (SHGs) initiated by a Kolkata non government organisation run by Kunal Deb.
Apart from visiting festivals to showcase their Santhali fare, Murmu manages 25 SHGs around his native village in Bengal. Deb elaborated, "The SHGs report to a 'Gogo Goanta' (Santhali for mother committee) under the traditional Santhal self rule sytem. We encourage dryland agriculture because Santhals mostly live in dry land areas in Bankura, Birbhum, Purulia and West Midnapur. We want to wean the Santhals away from industrialised agriculture as they are losing money every day."
Debraj Mookerjee, an Associate Professor of Delhi University, who bought spices at the festival remarked, "I have grown up in small India. At least 70 per cent of our population grows its own food not just for livelihood but for sustenance. I think it's a good idea to showcase the food economy of rural India and sharing the story of sustenance agriculture, which is rooted in the Gandhian philosophy."
Apart from selling organic food to the health conscious food enthusiasts, the festival afforded a chance for some of the rural sellers to step out from their quiet villages and see the national capital. For instance, Preeti from Pilibhit, excitedly conveyed how she had waited long for a chance to visit a big city and was how she was enjoying soaking in the sights and sounds and observing the people.
The festival was truly a celebration of women SHGs and women empowerment and raised awareness on the health benefits of organic food. From women involved in soap-making in Bawana on Delhi's outskirts to those working in farmlands for Amira Organic, an organic food chain, there were women selling honey, fox nuts, walnuts and Kiwi. And as they shared nature's bounty, an exhaustive knowledge of forgotten foods and their brilliant handi-work, they, too, seemed to draw confidence and assurance from the wonder-struck expressions of keen shoppers and curious bystanders. - Women's Feature Service

Trending Now: