Ariane Mnouchkine of Théatre du Soleil finds theatre even on Indian streets
Preetha Nair
&nbsp | &nbsp New Delhi
22-December-2015
Vol 6&nbsp|&nbspIssue 51
When Ariane Mnouchkine, one of Europe's foremost theatre directors, first visited India in 1963, her understanding of the country's theatre was a kathakali performance she had watched back home in France.

Though oblivious of the nuances of oriental or western theatre at that time, Mnouchkine knew that India's traditional arts would have a profound influence on her work.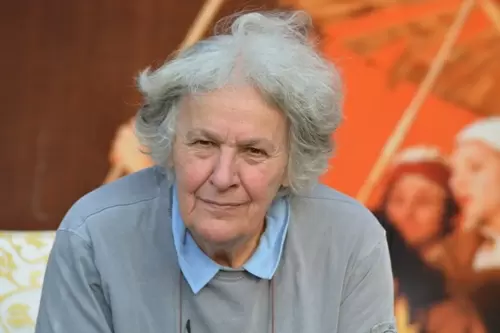 Ariane, who first visited India in 1963, has been inspired by the traditions of Asian theatre (Photo: IANS)

Now, more than five decades later, Mnouchkine, founder of the legendary Théatre du Soleil feels that it's time to give back to India, whose art and people influenced her abundantly. She is realising the dream of sharing the theatre experience with India by holding a 'École Nomade' workshop in Puducherry from December 14-30.
"When I realised that I would dedicate my life to theatre, I embarked on a long journey and first arrived in India in 1963. I knew that this country would be my treasure and I would probably learn the basics of what to do without even knowing what I was going to do.

"I am indebted towards different forms of traditional theatre," said Mnouchkine adding that she chose Puducherry as she will be working in collaboration with Indianostrum theatre founded by Koumarane Valavane, a former member of Théatre du Soleil.
"Indian arts are important to me and they guide me. Probably the decision to come to India was in a way to give back a little and show the young people here the way we work," said Mnouchkine, an Ibsen awardee and also one of the most known theatre directors globally, having directed world renowned plays.

In 1987, she made L´Indiade (The India of Their Dreams), around a text by Hélène Cixous which dealt with the India-Pakistan partition. Her production also includes a four-part odyssey into Greek tragedy, Les Atrides (1990-92), which blended kathakali with kabuki.
The École Nomade, organised by the Alliance Francaise of Puducherry, Institut Francais, and Department of Tourism, will see the participation of 100 actors selected from across India, who will be joined by 12 actors of Théatre du Soleil.

A production should follow the programme, which is scheduled to be showcased in France by the end of 2016 and in India early 2017 as part of the festival of France in India, 'Bonjour India'.
However, Mnouchkine doesn't want to divulge any details of the workshop. "I don't want them to be alarmed. I want them to act," she says and it shows the unique style of Mnouchkine's avant-garde theatre.
The declaration in the Ibsen citation is true to her philosophy of theatre, it says, "to enter a Mnouchkine production is to enter another world".

Ask her how does the company of 75 artists' work? "The first thing is to listen to all the members. The French are argumentative, so is our theatre. In the stage also that first thing is to listen and to react to what you've received. We are trained to cut the other, not to interrogate. An actor has to be wounded by the words or the actions of the other actor," she says.
Political correctness runs through her actions whether the decision not to visit China or visiting Britain. "Our company has visited Britain only once. It has to do with politics of culture because they don't give possibilities for us. Though I want to visit China, I will never go there till they accept Tibet's autonomy," she quips.
However, Mnouchkine doesn't think theatre can adapt to real activism, "We are politically minded but our plays are not militant. Theatre is not journalism, police or army. We must not be pushed by actuality. We must not submit to the events," she said.
Though the roots of her theatre have been inspired by the traditions of Asian theatre, Mnouchkine admits that she is yet to see any Indian production. "There is theatre everywhere in India, even in the streets. There is musicality in their gestures. I don't have to go to theatre to gather visions," she laughs. - IANS
Wish to share your story?
Trending Now: