'A clear mind will create more opportunities to be creative and strategic'
Fakir Balaji
&nbsp | &nbsp Bengaluru
07-December-2015
Vol 6&nbsp|&nbspIssue 49
American productivity guru and acclaimed author of "Getting Things Done", David Allen has forayed into India to train individuals and executives on the art of leading a stress-free productive life.
"Getting Things Done (GTD) is a methodology for stress-free performance and a complete work-life management system for anyone in any occupation to become more productive, efficient and successful without stress or strain," Allen said.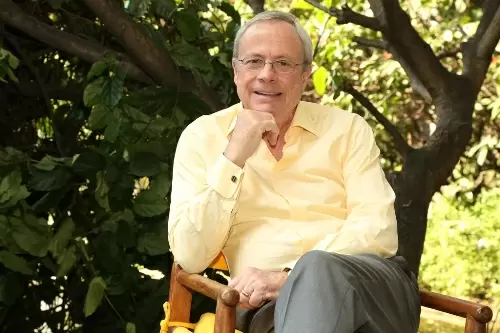 David Allen's popular self-help book 'Getting Things Done' has been translated into 28 languages the world over (Photo: IANS)

On his maiden visit to India as part of a world tour, 70-year-old Allen has tied up with Calm Achiever, a city-based start-up, as his master franchisee in India to train people through its co-founders - Mohammed Arif Vakil and Mohammed Ali Vakil of the Vakil Housing Development Corporation, a leading real estate firm in this tech hub.
"As Arif and Ali are early adopters of the methodology and its major beneficiaries, they are certified GTD trainers to bring about a dramatic change in people towards their work through workshops at weekends for public, executives and corporates," Allen said after launching the 2015 edition of his international bestseller over the weekend.
Though Allen began imparting the art of stress-free productivity, as described in his 300-odd-page absorbing book, to individuals and executives in batches, the growing demand for training in large numbers made him float a company in his name over a decade ago in California.
"David Allen Company (DAC) is a productivity training and consulting firm to enhance performance, capacity and aligned execution by individuals, organisations or firms in a systematic way, with measurable productive outcomes," Allen asserted.
DAC has about 100 institutional clients, including 40 percent of Fortune 100 firms in the US, and master franchisees across Eastern Europe and the Gulf region to conduct workshops and train the people looking for stress-free productivity and greater efficiency and to lead a happy and peaceful life.
"We have an international following of adopters in corporate enterprises, institutions and entrepreneurs. As a global movement with practitioners the world over, GTD is relevant to India where more people are becoming knowledge workers and are bombarded with information, causing distraction and procrastination," Allen noted.
The day-long interactive workshops, conducted separately for individuals, executives and organsations, preferably on weekends, as most companies work on a five-day week, are structured in five phases to first orient the mind and regulate its thought process towards the goal being pursued to achieve success without stress or strain.
"Our GTD process having five steps - capture, clarify, organise, reflect and engage - enables its followers to prioritise their attention for the moment and choose right things at the right time for getting things done with confidence," Allen reiterated.
Based on a blend of Zen, Sufism and age-old self-help techniques, the GTD process offers to change the way people work and live, as it is based on the premise that productivity is linked to one's ability to relax and create space for oneself.
"When our minds are clear and our thoughts are organised we can achieve effective results and unleash our creative potential. Our (GTD) principles help its practitioners strike the right balance between professional work and personal life," Allen said.
With the mantra of "calm down and get more things done in life", the training begins with a simple step of identifying where the individual's attention is focussed on, followed by the decision-making process for a successful outcome and what the next action will be.
"GTD is all about creating mental space. A clear mind will create more opportunities to be creative and strategic. When we are creative and strategic we can get more things done and lead a more peaceful and productive life," Allen claimed.
Citing research, which found that the human brain cannot or was not designed to keep more than four things at a time, the guru said cognitive science over the last two decades had proved that the human head was for having ideas and not for holding them.
"Speed does not work all the time. We need to slow down and focus on a few. As a reliable framework, our GTD process helps us manage the information load we face so that we can deliver on our commitments effectively," Allen added.
Echoing his mentor, Calm Achiever director and master trainer Vakil said GTD had become a global movement with followers the world over, including India, where more people are becoming knowledge workers with all its attendant pulls and pressures.
"As India is moving towards a digitally empowered economy, executives face an excess of information overload and are overwhelmed by options. We aim to help them manage chaos in a way that is effective, sustainable and creates a healthy work-life balance," Vakil said.
Allen also authored "Ready for Anything" and "Making It All Work: Winning at the Game of Work and Business of Life". His popular self-help book on GTD has been translated into 28 languages the world over. - IANS

Trending Now: