A cosmopolitan city during the Mughal days, the home of Taj Mahal is now drawing the aged
Brij Khandelwal
&nbsp | &nbsp Agra
30-November-2015
Vol 6&nbsp|&nbspIssue 48
As more and more educated youngsters of Agra flee to greener pastures, the Taj city is becoming a haven for retirees, who find the slow pace of life here in tune with their ageing rhythm.
"This city is strange; no one seems in any feverish hurry and people have ample time to call on friends or wait everywhere from government offices to eating joints.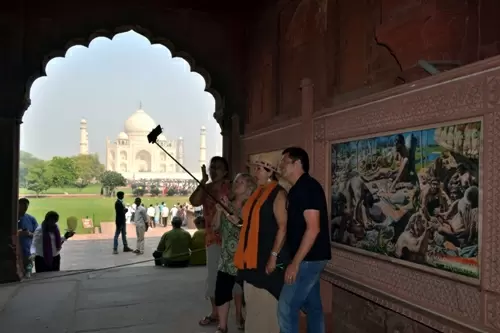 Industrial development has slowed down in Agra due to fears that unrestricted expansion would damage the Taj Mahal and so, youngsters are leaving the city in search of employment (Photo: IANS)

"Within the city the cycle-rickshaw is still the chief mode of conveyance. Punctuality rules are flexible enough to accommodate late comers without frowns," said senior journalist Sunayan Chaturvedi
With industrial stagnation and restrictions on expansion of existing projects due to pollution fears that it could damage the Taj Mahal, the young ones fly away as soon as they finish their education.
"A random survey last year indicated around 30,000 educated young ones annually leave Agra to settle in metros or abroad. The call centres in Delhi are attracting a whole lot of youngsters these days," said NGO functionary Shravan Kumar Singh.
"Agra, a city known to have many prestigious educational institutions, does not have the capacity to absorb youngsters who complete a specialised course or higher education," said academic V.P. Singh.
Once the young ones grow feathers to fly they have no reason to stay back in the city of their birth. Thus, Agra seems to have a surfeit of left-overs - the elderly who have no place to migrate and the younger ones who are not fit enough to find a decent job elsewhere.
The city, which revels in the cosmopolitan legacy of the Mughals and the British, has become the favourite destination of many senior citizens and retirees who prefer to spend their sunset years in its peace and comfort.
Being a prominent destination on the world tourism map and being close to historic temple cities of Mathura and Vrindavan, Agra has all the facilities of a metro city, complete with five-star hotels and malls.
Government servants who had the option to return to their native places have chosen to drop anchor in Agra, which they find is an ideal place to settle down. People here are helpful and do not let you feel that you are an outsider, say many retired officials.
Headquarters of the Radhasoami sect, Agra has become home to many retired government officials, professionals and educationists who follow the faith. Many are giving their services to the educational institutions run by the Radhasoami Satsang Sabha.
Educationists and priests from the south have also made Agra their final abode. Father John Ferriera, who retired as principal of the 168-year-old St Peter's College, chose to hang on to the city to complete his unfinished agenda of popularising yoga for wellness of the masses.
Many live in the "comfortable, pollution-free ambiance" of the Dayalbagh area, which, of course, is not as green as Kerala.
Many feel the law and order situation is better than in Greater Noida or Gurgaon.
Bibhuti Bhushan Barik, an author and educationist from Orissa who owns a decent property in Paschimpuri, said: "People here do not discriminate. They are friendly and cooperative. The air is good and the food is cheap."
"When I served a three-year stint at a prestigious national institute in Pune as director, I felt the problem of discrimination, which at times was offensive. But here in Agra, people are not bothered where you come from or why you are here. They are liberal and broad-minded. I often move in and out of the city during night but nobody has ever bothered me," Barik said.
According to the 2011 census, there are over 4.4 million people in Agra district, with more than 500,000 senior citizens. Little wonder that the country's first organisation that heralded a movement for the elderly, Respect Age International, was founded in 1962.
"We are the pioneers in this field in the world. Unlike in western society, we focus on Sewa and Samman to senior citizens and integrate them within the social system, instead of marginalising them by providing security. The beauty of old age needs to be accepted gracefully as an integral unit of society," said its secretary, Girish Gupta.
Surendra Sharma, owner of Goverdhan hotel, said: "The city is neither too big to be unmanageable nor too small. However, the city does not have much scope for the younger generation.
The grim reality is that there is hardly any worthwhile economic activity which could engage the younger generation in Agra as all industries are now closed following Supreme Court intervention to control pollution for the safety of heritage monuments," added Sharma, whose hotel has become a favourite meeting place of senior citizens. - IANS
Wish to share your story?
Trending Now: