Rejuvenating folk music that has been marginalized since independence
Bhavana Akella
&nbsp | &nbsp New Delhi
12-October-2015
Vol 6&nbsp|&nbspIssue 41
Presenting a platform for the folk and root musicians of Rajasthan with international music collaborations, Jodhpur RIFF, which will present its ninth edition during October 23-27, has been creating new music for not just audiences but to the country, festival director Divya Bhatia said.
Jodhpur's Rajasthan International Folk Festival (RIFF), with its Rajasthani folk musicians and international artists, has been presenting music forms heard and seen for the first time.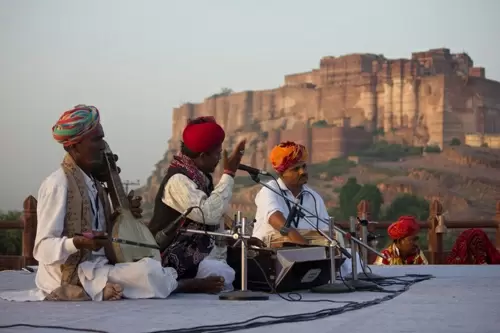 A musical performance at the Jaswant Thada cenotaph with Mehrahgarh Fort in the backdrop (Photo: IANS)

"We are not about fusion, we are about creating something that is fresh and new. Challenge is actually at the level of depth, how deep we want the collaboration to be," said Bhatia.
This year's festival will witness Grammy winners Wouter Kellerman and Yossi Fine, along with other music collaborations of artists with Rajasthani folk musicians.
The logic behind the collaborations is not simply to do something for the audience but to seed a new musical engagement, which can then live on its own, he said.
Terming the festival 'genre-independent', Bhatia said the collaborations and the kind of music of each year are non-identical.
"There can be African music, jazz, in addition to Rajasthani folk music. This year's feel and collaborations are nothing like those of last year's," he said explaining the kind of music nurtured by the festival.
The festival, which takes place in Jodhpur's Mehrangarh Fort, has a lot to do with not only music but the physical set-up as well, Bhatia said.
"The festival takes place across the various courtyards of the Mehrangarh fort. From time to time, the audience moves across the fort. There is a 360 degree experience of the fort. The relationship of the artist to the setting is very important here," he said.
On a full moon day, the festival offers the picturesque setting for a midnight concert. From the time the moon rises from behind the artists to the time they see the sun again, the only engagement for the gathering is music.
The fort would turn into a centre of cultural dialogue through music, narratives, dance forms and talks - with musicians and performers converging from across Rajasthan, Brazil, Finland, Ghana, Israel, Scotland, South Africa, Spain and India.
The festival aims to bring to life the folk music, which has been marginalized since independence, and impact the livelihood of the singers, Bhatia said.
With the culture of banning prevailing in the country, Bhatia said, "the tradition of musicians who worked as saperas around snakes has been dead. The bans today, of beef ban, and others, have systematically undermined the traditional culture."
Through festivals like these, folk musicians, "who aren't getting enough opportunities in India to showcase their music", are now known across the world, Bhatia said. – IANS

Trending Now: