"This book is specifically based on women in the realm of business and economy"
Aparajita Gupta
&nbsp | &nbsp New Delhi
01-June-2015
Vol 6&nbsp|&nbspIssue 22
Women have broken through the glass ceiling not just in India's financial services space, holding top positions in top banks, but have also made a significant mark in a host of other industries, says Naina Lal Kidwai, executive director of HSBC Asia Pacific.
The editor of "30 Women in Power: Their Voices, Their Stories" that was released recently, the Harvard-educated Kidwai says Indian women today lead large organisations - in banking, law, media, IT, advertising, governance, healthcare, consulting, consumer goods and non-profits.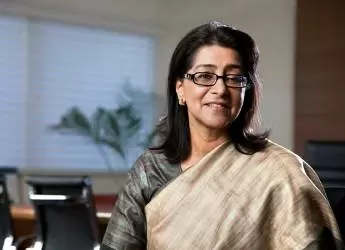 The book has the success stories of fellow bankers Arundhati Bhattacharya, Chanda Kochhar and Kaku Nakhate and others like Kiran Mazumdar-Shaw, Krithiga Reddy and Mallika Srinivasan. In photo, Naina Lal Kidwai (Photo: IANS)
Kidwai said in the narratives that feature 30 stories, the achievers have not just spelt out their mantras for success but have also been up close and personal about what they had to endure to reach the positions they are in today.
"The idea of the book started when I joined Ficci as the president. Around that time the Nirbhaya episode took place and the question posed to me: Are women in India safe enough. India was seen through the lens of rape. It was a horrendous incident. But we also do a lot of good things."
The reference was to the horrendous gang-rape of a young intern in a moving bus in the national capital on December 16, 2012, who subsequently died in a Singapore hospital where she had been airlifted for specialised treatment.
Kidwai said that was the time when she thought of a book. "This book is specifically based on women in the realm of business and economy. The criteria were to pick women who run organisations and tell their stories themselves. It provides a lot of insights and advice as well."
From fellow bankers like Arundhati Bhattacharya , Chanda Kochhar and Kaku Nakhate, and not to forget the editor herself, the book also features Anjali Bansal, Aruna Jayanthi and Jyotsna Suri.
It also has stories of success women like Kiran Mazumdar-Shaw, Krithiga Reddy, Mallika Srinivasan, Meher Pudumjee, Sunita Narain and Nirupama Rao among many others.
"Women can have it all," said Kidwai, who has made regular appearance over the years on listings by Fortune, The Wall Street Journal and Times as one of the most powerful women in business in the world.
She believes in empowering women through livelihoods.
Talking about balancing work and the home front, she said: "It's easier for us to succeed as working women in India than it is for many of our female counterparts in other parts of the world. After all, in India we have the distinct advantage of an extended family of mothers, sisters and in-laws and house help."
"Other than the crystal balls of family and home, there is a third ball though that we, as perennial jugglers, forget - that third ball is 'me time'. I treat this as a rubber ball - allow it to drop and bounce back when I can afford to attend it," she wrote.
Fifty-seven old year Kidwai is the mother of two children. In 2007, she received the Padma Shri, India's fourth highest civilian award, for her contribution to trade and industry.
Asked about the abysmally low presence of Indian women on corporate boards, Kidwai said: "We do need to give it a push." - IANS
Wish to share your story?
Trending Now: